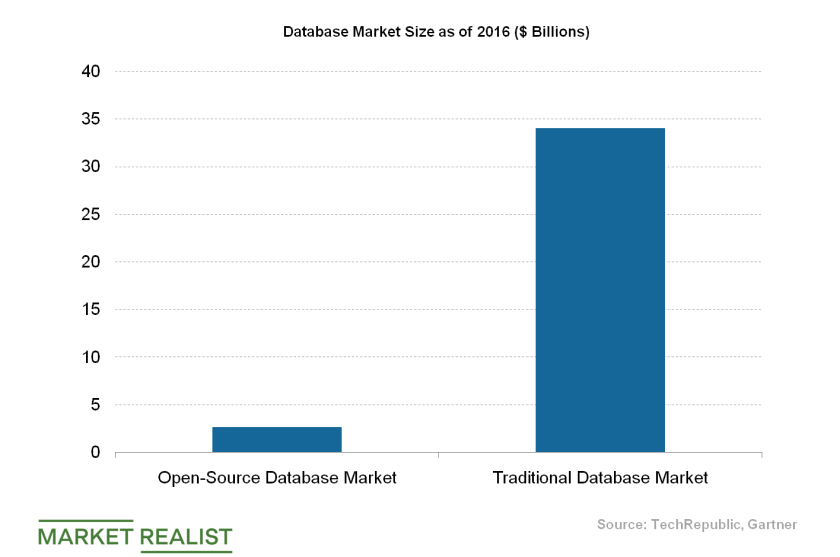 Oracle Explains Why Its Database Is Better than Amazon's
By Puneet Sikka

Dec. 6 2018, Updated 9:00 a.m. ET
Open-source database market is growing rapidly
In the previous article, we discussed how Oracle's (ORCL) Autonomous Database is an attempt by Oracle to penetrate the IaaS (infrastructure-as-a-service) market, a category of cloud computing. Despite Oracle's small presence in the IaaS market, it's known to be a leader in the traditional on-premises database market. However, since there's a trend of companies moving their software applications from on-premises to the cloud, Oracle is finding itself in a difficult situation.
Article continues below advertisement
In the past few years, a number of competitors have popped up for Oracle, especially in terms of open-source databases. These include PostgreSQL, NoSQL, MongoDB, and Redis. According to a report from TechRepublic citing Gartner as its source, the open-source database market is worth $2.6 billion compared to $34 billion for the traditional database market. Although the size of the open-source database market seems small, it grew 100% in 2015 and 50% in 2016 year-over-year.
The report also mentioned that the top five players in the database market—Oracle, Microsoft (MSFT), IBM (IBM), SAP (SAP), and Teradata (TDC)—accounted for a 91% share of the overall database market in 2011. However, this share has fallen to 87% in 2016 courtesy of open-source databases.
Oracle claims its database scores better in terms of performance, security, and reliability
Although Oracle faces stiff competition from open-source databases, it has played down this threat. During its most recent quarterly earnings call, Oracle specifically talked about Amazon's and Microsoft's databases, mentioning that some companies buy databases from Amazon because they receive cloud services from it. Similarly, companies buy databases from Microsoft mainly because of the Windows ecosystem.
However, Oracle claims that its database gives better performance, security, and reliability than its competitors, which is why companies still trust the Oracle brand.