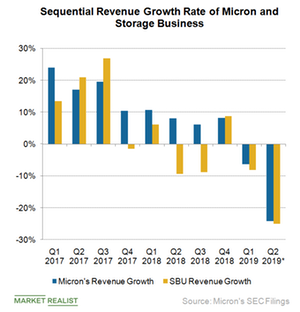 MU's Storage Business Is Undergoing a Transition in Fiscal 2019
By Puja Tayal

Dec. 31 2018, Updated 7:31 a.m. ET
Storage business
Micron Technology (MU) is focusing on high-density managed NAND (negative-AND) and low power DRAM (dynamic random-access memory) to increase its share in the mobile market. The company is also looking to gain market share in the SSD (solid-state drive) space by developing new SSDs. It has developed several 3D NAND solutions in collaboration with Intel (INTC).
Micron is ending its partnership with Intel and will now develop future NAND technologies individually. NAND is indicative of a device's storage, and Micron's SBU (Storage Business Unit) offers trade NAND and enterprise and client SSDs. Hence, the SBU's earnings are largely influenced my Micron's NAND market. The company is focusing on high-margin, high-performance NAND solutions to maintain SBU profits amid falling NAND prices.
Article continues below advertisement
SBU's earnings
As we can see in the graph above, the SBU's revenue rose in the double digits sequentially in the first three quarters of fiscal 2017 due to demand elasticity. NAND's ASP (average selling price) fell, and its sales volumes rose. However, the SBU's revenue weakened in fiscal 2018 as the NAND market was hit by oversupply.
In the first quarter of fiscal 2019, the SBU's revenue fell 8% sequentially to $1.1 billion, accounting for 14.4% of Micron's revenue. The fall came as the company's NAND ASP fell in the low to mid-single digits, and its volume growth slowed because it was transitioning its SSD portfolio. This slowdown benefited its rivals—Western Digital's (WDC) flash revenue rose 7.2% sequentially in the September quarter.
A transition year for SBU
The coming year will see Micron transition its NAND portfolio from a SATA (Serial Advanced Technology Attachment) interface to an NVMe (nonvolatile memory) interface. This transition will likely hit Micron's market share in terms of SATA enterprise SSDs, where it's a market leader.
Falling NAND prices coupled with lower SSD shipments could hurt the SBU's fiscal 2019 earnings. We expect the SBU's revenue to fall 25% sequentially to $855 million in the second quarter of fiscal 2019. CEO Sanjay Mehrotra expects growth to resume in 2020 as the full portfolio of NVMe SSDs hits the market.
Next, let's look at Micron's embedded business.