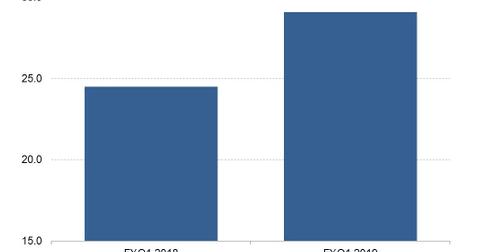 Microsoft Saves Contract with Israel's Government
By Ruchi Gupta

Updated
Contract renewed
Microsoft (MSFT) has secured the renewal of its software supply contract with Israel's government, according to Reuters. This contract renewal is notable because in August, Israel threatened to terminate its software contracts with Microsoft after the company proposed shifting it to a different licensing model. Specifically, Microsoft had wanted to move Israel to a software subscription model from a perpetual software license model (in which the customer is free to use the software as desired).
Article continues below advertisement
Israel had been spending ~$27 million annually on Microsoft Office and Windows software, but it feared that being shifted to a subscription model would significantly increase the cost of using the software. As a result, Israel threatened that it would not renew its software supply contracts with Microsoft. It seems Microsoft and Israel's government talked the licensing terms issue over and reached an agreement.
Office and Windows software businesses grew
The Office software business falls under Microsoft's Productivity and Business Processes segment, where revenue rose 18% YoY (year-over-year) to $9.8 billion in the company's first quarter of fiscal 2019, which ended on September 30. Windows' software business falls under Microsoft's More Personal Computing segment, where revenue jumped 15% YoY to $10.7 billion in the quarter.
Total revenue jumped 19%
Microsoft's total revenue for the first quarter of fiscal 2019 rose 19% YoY to $29.1 billion. Apple and SAP SE (SAP) grew their revenues 19.6% and 7.7%, respectively, YoY in the comparable quarter. Revenue fell 2.1% YoY at IBM Corporation (IBM) in the period. Amazon (AMZN) and Alphabet (GOOGL) reported revenue rises of 29.3% and 21.5%, respectively, YoY in the period.