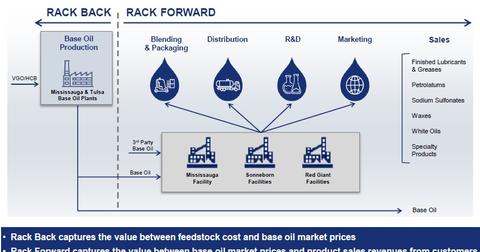 Is HFC's Lubricants and Specialty Products Segment Expanding?
By Maitali Ramkumar

Updated
HollyFrontier's acquisition spree
HollyFrontier (HFC) has an integrated Lubricants and Specialty Products segment, which produces and sells finished lubricants and specialty products to over 80 countries globally. HollyFrontier is also the fourth-largest base oil producer in North America.
The company has been continuously expanding this segment via capex and acquisitions. Last year, HollyFrontier acquired Petro Canada, marking a significant addition to its lubricant portfolio. This acquisition added a Mississauga, Ontario, plant with 15,600 barrels per day in lubricant production capacity to HollyFrontier's portfolio.
Article continues below advertisement
This fully integrated plant is the largest producer of base oils in Canada, producing all manner of products from base oils to finished products. It produces a variety of specialty products to be sold to customers globally. The plant complements HFC's existing lubricant plant in Tulsa, creating synergies and a robust rack back platform.
Red Giant Oil and Sonneborn acquisitions
In the previous quarter, HollyFrontier acquired Red Giant Oil, which has storage, blending, and packaging facilities. The acquisition has now positioned HollyFrontier to expand its locomotive lubricants market in North America. Red Giant Oil is expected to add ~$7.5 million annually to HollyFrontier's EBITDA.
Recently, HollyFrontier agreed to acquire Sonneborn US Holdings for $655 million. The Sonneborn acquisition is expected to raise HollyFrontier's earnings and cash flows almost instantly. HollyFrontier expects to see $85 million worth of additional annual EBITDA, including $20 million in annual synergies, from the acquisition.
Article continues below advertisement
The Sonneborn acquisition is expected to close in 2019 subject to the requisite approvals. The acquisition will significantly expand HollyFrontier's specialty product portfolio, strengthening its rack forward business. Sonneborn will also raise HollyFrontier's processing capacities in Europe and North America.
On the horizon
The company is all set to raise its earnings in its Lubricants and Specialty Products segment. The above acquisitions have created an integrated lubricant and specialty product value chain. The company now has a strong platform for growth. Plus, HollyFrontier's latest acquisition will strengthen its global footprint and distribution network.