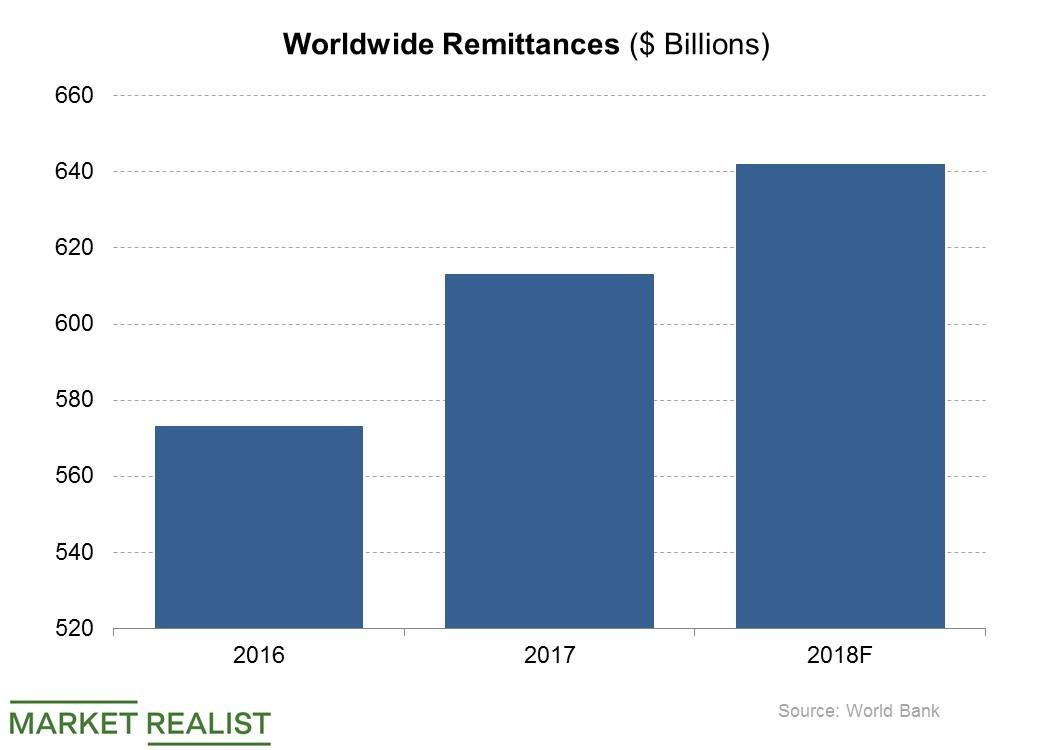 Is Facebook Eyeing the $610 Billion–Plus Remittances Market?
By Neha Gupta

Dec. 31 2018, Updated 1:50 p.m. ET
Global remittances market expanded 7% in 2017
Facebook (FB) is quietly developing a type of digital currency that will let people transfer money through its WhatsApp messaging platform, Bloomberg reported.
With its crypto-based money transfer project, Facebook has its sights on the remittances market, with India as the first target, according to the report. India is one of WhatsApp's biggest markets. The messaging service is used by more than 200 million people in the country, according to the report. India is also a huge remittance market, with World Bank data showing that people living abroad sent more than $69 billion back home to India in 2017. Globally, remittances increased 7.0% to $613 billion in 2017. In 2018, global remittances are estimated to have reached $642 billion.
Article continues below advertisement
The battle for remittances revenue
Potential tension with PayPal
While entering the remittances market may open a new significant revenue opportunity for Facebook, it could also create tensions with PayPal at a time when some analysts have said the companies need each other, as CNBC reported recently. Facebook and PayPal, for example, could collaborate in countering Amazon (AMZN), which is threatening Facebook's advertising business on the one hand and PayPal's payments business on the other.