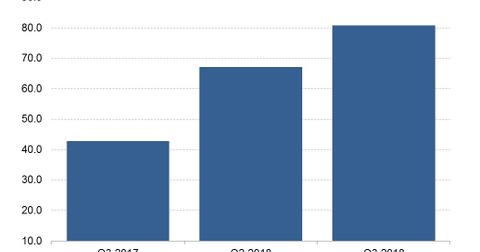 iQiyi Moves to Replenish Its War Chest
By Neha Gupta

Updated
Content costs soared 66% in latest quarter
iQiyi (IQ) is replenishing its finances as it wages an expensive war for subscribers and revenue in China's video streaming industry. The company recently raised $735.6 million through the sale of convertible notes maturing in five years. This adds to iQiyi's $1.4 billion cash holding at the end of the third quarter.
iQiyi said it intended to use the funds from the convertible notes sale to finance content and technology investment among others. The company's content costs rose 66% to $875.5 million in the third quarter, accounting for 88% of total revenue. Content costs jumped 47% and accounted for 76% of total revenue in the second quarter.
iQiyi boasts over 80 million subscribers
The chase for video streaming customers and dollars in China pits iQiyi against a wide range of competitors, but the most prominent of them are Tencent (TCEHY) and Alibaba (BABA). Tencent operates a namesake video service and reported having 82 million subscribers at the end of the third quarter. Alibaba operates a video streaming service under the Youku brand. It said Youku's daily subscribers doubled in the third quarter but didn't disclose the exact number of subscribers. iQiyi closed the third quarter with 80.7 million subscribers, up from 42.7 million a year earlier. Netflix (NFLX) exited the third quarter with 137.1 million subscribers worldwide.
Baidu controls iQiyi
iQiyi, which went public earlier this year, is controlled by Baidu (BIDU), China's top Internet search engine provider. Baidu has also been adding to its war chest, recently selling $250 million of notes maturing in 2024.