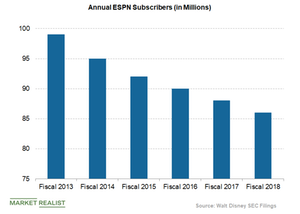 Inside Google's Ad Partnership with Disney
By Sophia Nicholson

Dec. 3 2018, Updated 1:50 p.m. ET
Google partners with Disney
On November 28, Alphabet's (GOOGL) subsidiary Google announced a new ad partnership with media giant Walt Disney (DIS) and ended its relationship with Comcast's (CMCSA) ad tech subsidiary FreeWheel, which was acquired for $360 million in 2014. Under the new partnership with Google, Disney's core ad tech platform will be managed by Google Ad Manager, which will also power Disney's video and display ad business, according to a blog post.
Disney has a massive portfolio of content as well as distribution channels. Disney also has a vast digital audience across all of its properties with an estimated 230 million viewers.
Article continues below advertisement
Monetizing ESPN+
Disney was reportedly thinking of building its own ad technology but then ultimately decided to partner with Google, who will provide ad support to Disney's business including live streaming, as well as direct-to-consumer (or DTC) offerings like ESPN+. However, the partnership won't include Internet streaming service Hulu, in which Disney has a 30% stake. Notably, Disney's stake in Hulu would double to 60% once Disney closes its pending acquisition of 21st Century Fox (FOXA), as Fox has a 30% stake in Hulu too. Comcast has another 30% stake in Hulu, while AT&T (T) holds a 10% stake in the streaming service provider.
Disney has been shifting its focus to DTC offerings, which will help the company expand in the over-the-top streaming business to combat digital rivals. Disney's ESPN sports network has been witnessing declining subscribers for the past five years due to cord cutting. To fight declining ESPN subscribers, Disney launched its first direct-to-consumer streaming service called ESPN+ in April 2018. ESPN+ was priced at $4.99 per month or $49.99 per year, including ads, and attracted more than 1 million paid subscribers in just six months since its launch in April 2018.
The company is slated to launch its Disney-branded streaming service called Disney+ by the end of 2019, but the service won't have ads.