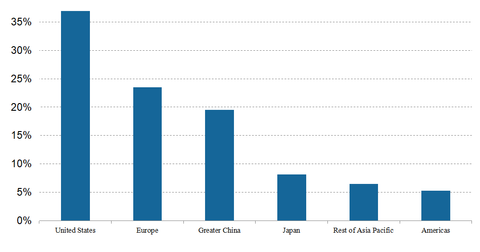 How Tariff War Could Impact Global iPhone Sales
By Adam Rogers

Updated
iPhone prices might rise by $160
An Apple Insider report stated, "The Trump administration's threat of more China tariffs could significantly raise the price of iPhones for consumers, with the iPhone XS family potentially costing between $60 and $160 more if Apple passes the extra cost on to its customers."
President Trump has confirmed that he will not hesitate to impose tariffs on $200 billion worth of imported goods from China if talks with Chinese (FXI) counterpart Xi Jinping don't go as expected.
Article continues below advertisement
Morgan Stanley (MS) analyst Katy Huberty stated that Apple (AAPL) has significant exposure to Chinese imports into the United States. It will be difficult for Apple to move out of China and escape tariffs, as the country provides a low-cost skilled labor force that produces 300 million devices annually.
Estimates indicate 32% of Apple's COGS (or cost of goods sold) may be subjected to tariffs between 10% and 25%. If this cost is passed to consumers, the iPhone XS price may rise to between $60 and $160 per device. However, if Apple doesn't transfer these costs, it could impact the company's bottom line. Huberty expects the company's earnings per share to fall by $1 to $2.50 per share depending on the percentage of tariffs levied.
China accounts for 19.6% of total revenue for Apple
Greater China is an important market for Apple and accounts for around 19.6% of its total revenue. Apple is already struggling in China's smartphone market with growing competition from domestic players such as Huawei, Xiaomi, and OPPO. Apple is also struggling to gain a foothold in emerging markets such as India (INDA) due to its high price point.
A substantial increase in prices will most likely result in a drastic fall in device sales.