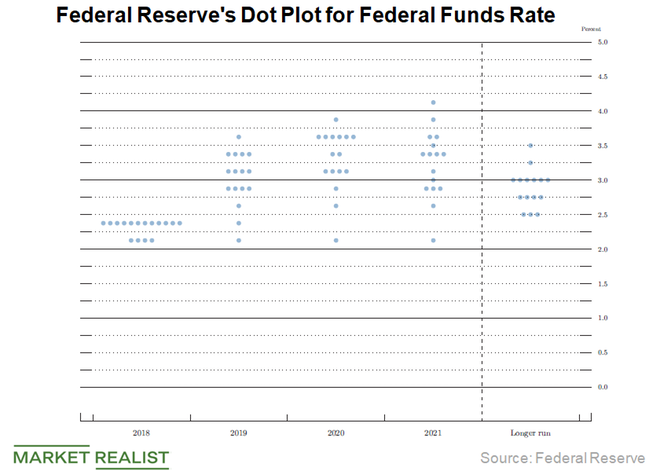 Goldman Sachs and JPM Think Market Is Wrong on Rate Hike Outlook
By Anuradha Garg

Dec. 17 2018, Updated 11:10 a.m. ET
Goldman Sachs tempered hawkish outlook
Among investment banks, Goldman Sachs (GS) and J.P. Morgan (JPM) are most aggressive on the Fed's rate hike outlook for 2019. GS, however, has somewhat tempered its outlook. Earlier, GS's chief economist, Jan Hatzius, was predicting four rate hikes from the Fed in 2019. This was against the Fed's own projection of three hikes at its September meeting. Recently, Hatzius conceded that the Fed might follow a slightly less aggressive rate hike path. He is now penciling in three rate hikes in 2019. He now thinks that the rate hike in March seems unlikely after a December rate hike. As reported by CNBC, Hatzius said, "December is still very likely (in our view 90%). However, we think the probability of a move in March has now fallen to slightly below 50%."
GS thinks that the market is overly concerned with how tight financial conditions could get. The firm sees a return to quarterly rate hikes by the Fed starting in June 2019.
Article continues below advertisement
J.P. Morgan is still hawkish
J.P. Morgan (JPM) also thinks that the Fed (AGG) will tighten more than markets are anticipating. It has the most hawkish view on hikes and is currently forecasting four rate hikes in 2019. As reported by Bloomberg, J.P. Morgan believes, "A decline in unemployment to 3.3 percent and an increase in the Fed's favored measure of inflation to 2.3 percent will drive the Fed to push up its benchmark from the current level — a range of 2 percent to 2.25 percent."
Divergence versus markets
GS and JPM's views on rate hikes are in stark contrast to the markets' views, which significantly downgraded their rate hike estimates after Fed chair Jerome Powell's November 28 speech. The markets are currently pricing in one more hike in 2019 after December.
If, however, these banks are right and the Fed ends up signaling more than two hikes (BND), the markets (DIA) (SPY) could tank.