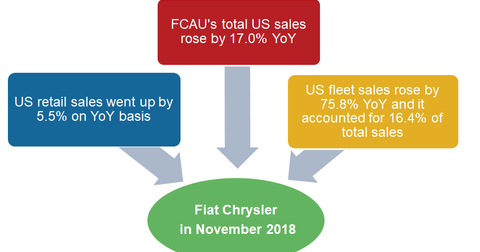 FCAU's US Sales Rose for the Eighth Month in a Row in November
By Jitendra Parashar

Updated
FCAU's US sales in November 2018
In November, Fiat Chrysler Automobiles' (FCAU) US vehicle sales totaled 181,310 units, ~17.0% higher than its US sales of 154,919 units in the same month of 2017 and ~2.2% up from the 177,391 units it sold in October.
November was the eighth consecutive month during which FCAU's sales recovered YoY (year-over-year) in the US market after 18 consecutive months of YoY falls.
Article continues below advertisement
Solid US retail sales
Fiat Chrysler's retail sales remained solid at 136,704 vehicle units with an increase of ~5.5% YoY, lower than Ford Motor Company's (F) home market retail sales of 145,495 units last month. In October, FCAU's US retail sales also rose ~8.5% YoY.
Solid gains in its retail sales were one of the reasons why Fiat Chrysler's total US sales rose in November. As a percentage of its total US sales, Fiat Chrysler's November retail sales volumes were ~75.4%, down from 83.6% in November 2017.
A steep rise in fleet sales
In November, Fiat Chrysler's fleet sales saw a steep rise of ~75.8% YoY to 44,606 units, accounting for 16.4% of its total US sales. This figure was also significantly higher than its fleet sales of 36,191 units in September. Since early 2017, Fiat Chrysler has been reducing its US fleet sales to the daily rental segment to improve its operating margins, just like US giant General Motors (GM). Daily rental segment sales typically result in lower profit margins for auto companies (FXD) compared to their profits from retail sales.
Nonetheless, in the last few months, a sharp recovery in fleet sales has helped FCAU to gain market share in the United States. It's noteworthy that due to this planned cut in fleet sales, FCAU lost its US market share to its peers Toyota Motor (TM), GM, and Ford last year.
Read on to the next article to learn about Fiat Chrysler's car and truck sales in November.