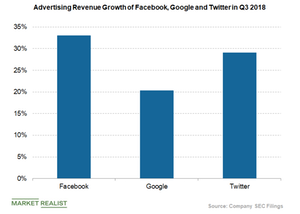 Facebook Stock Gains on Positive Report from Citron Research
By Sophia Nicholson

Updated
Facebook climbs 8.16%
Social media giant Facebook (FB) soared 8.16% on December 26 and closed at $134.18 after posting a decline for the last four trading days. The stock has declined around 25% in the past year due to privacy issues and other scandals hovering around the stock. Notably, investors have been increasingly cautious on Facebook amid a series of scandals and damaging events including the Cambridge Analytica scandal in March 2018 and the way Russian accounts influenced the 2016 US presidential election using the Facebook platform.
The surge in the stock price on Wednesday came after Citron Research released a research report on Wednesday, which suggested that Facebook is an excellent long-term stock.
Article continues below advertisement
Citron Research on Facebook
According to Citron, Facebook is the "2019 S&P Stock of the Year," and believes that the stock could touch a price target of $160 in 2019. Citron believes that Facebook's data scandals and privacy issues haven't impacted the company's advertising revenue or user base significantly.
During the third quarter, Facebook exceeded earnings estimates but lagged on revenue. However, both earnings and revenues grew in the double digits in the third quarter on a YoY basis. While adjusted earnings climbed 11% YoY despite higher expense levels, revenues were up 33% YoY.
Facebook earns the majority of its revenues from its advertising business. Facebook's revenues were driven by a 33% year-over-year increase in advertising revenues to $13.5 billion. Like Facebook, rivals Twitter (TWTR), Snap (SNAP), Yelp (YELP), and Alphabet's (GOOGL) Google also generate most of their revenues from advertising sales. While Google's ad sales grew ~20.3% YoY, Twitter's ad sales climbed ~29% in Q3 2018.
Facebook's global daily active users of 1.49 billion and monthly active users of 2.27 billion also missed analysts' estimates in the quarter, but were up 9% and 10% YoY, respectively.
Citron is also optimistic about the company's photo-sharing product Instagram and believes that Instagram shopping would invite big brands to offer their product deals through stories, thus making up for Facebook's weakness.