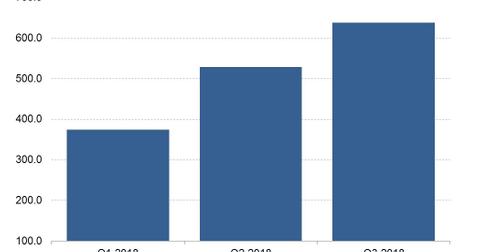 Could Trade War Undermine Ericsson's Competition in China?
By Ruchi Gupta

Updated
Ericsson is hoping to turn around its fortunes in China
Ericsson (ERIC) didn't do well in China in the previous cellular generations, mostly because it lacked the right product range for the Chinese market. But the company is hoping it will do better in the country in the 5G era. But again there is a problem: the trade conflict between the United States and China. Could it undermine Ericsson's competition in China's telecom equipment market? Ericsson CEO Börje Ekholm has said he doesn't expect the trade dispute to make it harder for Ericsson to sell its products in China.
Article continues below advertisement
China excited about 5G
China is a top priority market for telecom equipment vendors, as the country is in a race to lead 5G network deployment. Interest in 5G technology is so strong in China that the government there was at one point reported as mulling merging two of the country's top operators to try to leapfrog the United States and other economic rivals in the 5G network rollout.
Chinese operators are excited about 5G as Nokia's (NOK) 5G deals in the country suggest. Nokia last month won 5G-related contracts worth almost $2.3 billion from a trio of Chinese operators including the world leader by subscribers, China Mobile (CHL). Ericsson has also partnered with all three of China's operators on 5G trials.
Taking on Huawei on its home turf
Chinese technology companies such as Baidu (BIDU) and Alibaba (BABA) are underway with self-driving programs that would benefit from 5G connectivity, opening new revenue opportunities for Chinese operators.
In China, Ericsson is set to face off with Huawei in its backyard in the chase for 5G contracts. Ericsson's revenue from Northeast Asia, the region that includes China, rose 2.0% year-over-year to around $638 million in the third quarter.