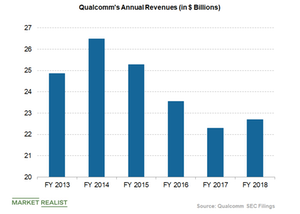 China's Positive Comments on the Qualcomm-NXP Merger
By Sophia Nicholson

Dec. 11 2018, Updated 11:20 a.m. ET
China's positive comments 
On December 3, the White House stated that President Trump mentioned the unapproved Qualcomm (QCOM) and NXP Semiconductors (NXP) merger during the G20 summit with President Jinping. Qualcomm had to cancel the biggest semiconductor acquisition of $44 billion in July. Qualcomm wanted to buy NXP Semiconductors because of the company's presence in China. The acquisition could have significantly boosted Qualcomm's sluggish revenue trend. President Jinping seems to be positive about corporate mergers. He said that China would approve the Qualcomm-NXP Semiconductors merger if the companies decide to merger again.
Although Qualcomm has decided not to revive its abandoned $44 billion NXP Semiconductors deal, China's openness to the deal hinted that China would support corporate mergers. Potential acquirers in the broader chip industry are hopeful about moving ahead with pending agreements.
Article continues below advertisement
Other pending deals
The mergers and acquisitions in the semiconductor space slowed down significantly due to trade war tensions between the US and China. Acquirers were concerned that Chinese antitrust regulators would refuse the deals. Following the trade war truce, several other US chip developers are reportedly open to making deals. Some acquirers might be optimistic about the possibility of getting pending deals approved.
US-based chips provider Xilinx (XLNX) has a significant presence in China. Xilinx wants to buy Israeli chipmaker Mellanox Technologies (MLNX). Xilinx is waiting for regulatory approval. The $3.4 billion pending acquisition of KLA-Tencor (KLAC) with semiconductor equipment maker Orbotech, announced in March, is also waiting for Chinese regulatory approval.
In other sectors, Chinese regulators have approved mergers including United Technologies's $30 billion purchase of aircraft parts maker Rockwell Collins. Walt Disney also received approval from China for its $71.3 billion deal to buy most of 21st Century Fox's entertainment assets.