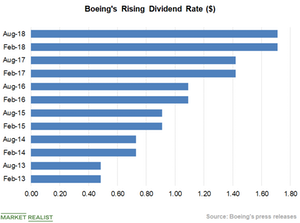 Boeing Continues Its Shareholder Wealth Enhancement Policy
By Anirudha Bhagat

Dec. 28 2018, Updated 10:30 a.m. ET
Robust dividend growth
Boeing (BA) has always looked to enhance shareholders' wealth through continuous, increasing dividend payments. The aircraft manufacturer has a history of paying quarterly dividends for the past 80 years. Moreover, in the past six years, the company has been raising its dividend payout once every four quarters.
In the last six years, Boeing's quarterly dividend has soared ~325%. In 2017, the world's largest aircraft manufacturer paid out $3.42 billion in dividends, almost triple the $1.26 billion it spent in 2011. In the first nine months of 2018, it returned $2.98 billion to shareholders in dividend payouts.
Article continues below advertisement
Continuing with its policy of increasing dividends every four quarters, Boeing raised its quarterly dividend 20% on December 17. The company's quarterly dividend rate has now grown to $2.055 per share from $1.71 in November. The newly raised dividend is payable on March 1, 2019, to shareholders of record as of February 8, 2019.
Higher dividend yield and payout ratio
Boeing has a higher dividend yield and payout ratio than its top competitors (ITA) except for Lockheed Martin (LMT). At its current market price, $294.16, Boeing has an indicated dividend yield of 2.8%—higher than its peers Northrop Grumman (NOC) and General Dynamics (GD) at 2.1% and 2.5%, respectively. Lockheed Martin has the highest dividend yield of 3.6%. The dividend payout ratios for Boeing, Lockheed Martin, Northrop, General Dynamics stand at 42.2%, 46.2%, 25.7%, and 32.7%, respectively.
Article continues below advertisement
Share repurchases
An aggressive share buyback is Boeing's other way of enhancing shareholders' wealth. The company first initiated its share repurchase program in 2013. Since then, it has repurchased ~$41 billion worth of its common stock.
On December 17, the world's largest aircraft manufacturer increased its share repurchase authorization limit to $20 billion from the $18 billion it approved in December 2017. In 2018 so far, Boeing has repurchased ~$9.2 billion worth of its common stock this year.
Over the last few years, defense companies have been active in returning cash to shareholders, as their funding commitments toward pension regulations have reduced significantly. Apart from enhancing shareholders' returns, dividend payments also boost investors' confidence in a company, persuading them to either hold or buy the stock.