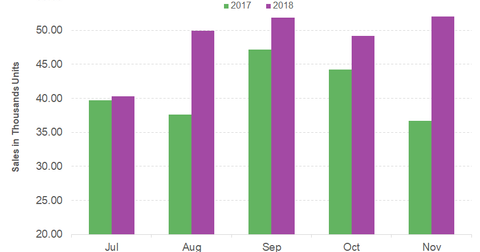 Are Ram Truck Sales Gradually Catching Up with Ford F-Series?
By Jitendra Parashar

Updated
Fiat Chrysler's sales by brand
In November, Fiat Chrysler Automobiles (FCAU) sold 1,957 units of its luxury brand, Alfa Romeo, in the United States, reflecting 36% YoY (year-over-year) growth.
The company attributed the increase in its Alfa Romeo sales to strong demand for the Alfa Romeo Stelvio SUV. In November, the company sold 1,034 units of the Stelvio SUV in the United States.
Article continues below advertisement
Is Ram catching up with Ford's F-Series?
Last month, Fiat Chrysler's Jeep brand sales (XLY) remained strong for the 11th month in a row after experiencing weakness in the previous 11 consecutive months. At the same time, total Ram brand sales also saw a solid 44% YoY rise to 57,970 vehicle units in November, also higher than the 54,542 units it sold in October. Among the total 57,970 units of Ram brand vehicles sold, 52,056 were pickup trucks, a rise of 42% YoY.
Ford's F-Series truck sales have fallen in the last three consecutive months. In September, October, and November, combined F-Series US sales fell ~5.8%.
Fiat Chrysler sold ~73,784 units of its Jeep brand vehicles in November, up 12% YoY. In late 2016, FCAU launched the second generation of its Jeep Compass, which is continuing to drive impressive positive sales growth in 2018. In November, Fiat's Jeep Compass model sales rose 25% YoY in the United States to 11,665 units. The Jeep Cherokee and Grand Cherokee were the top two Jeep brand vehicles sold last month at 20,296 units and 18,717 units, respectively. In addition, FCAU's Dodge brand sales jumped 15% YoY in November.
Jeep and Ram are two of the key brands in Fiat Chrysler's US product line. Ram also helps it uphold a notable position in the pickup truck segment.
In its most recently reported quarter, Fiat Chrysler's net profit margin was lower than Toyota Motor's (TM) and General Motors' (GM) but higher than Ford's (F). Among these auto companies, Toyota is known to maintain the highest profit margins.
In the next article, we'll learn about Toyota's US auto sales in November.