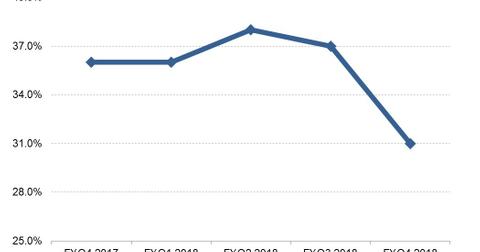 Apple's Year-Long iPhone Battery Discount Is Ending
By Ruchi Gupta

Updated
Apple sold batteries at a $50 discount
The special iPhone battery replacement program that Apple (AAPL) introduced last year has entered its final month. To appease customers angered by its action that resulted in iPhones with older batteries slowing down, Apple decided to introduce a program that allowed customers to buy a replacement battery for their iPhones at a steep discount of just $29 instead of the usual $79. Apple announced the discount program on December 28, 2017, and said it would run through December 2018, meaning the program is now just a few weeks away from ending.
Article continues below advertisement
In the first full quarter since Apple introduced the special iPhone battery replacement discount, its revenue jumped 38% YoY (year-over-year) in the Other Products segment, under which battery sales are reported, compared to 31% YoY growth a year earlier. But the growth slowed to 37% YoY in the quarter that followed and slowed even further to 31% YoY in the most recent quarter, which ended on September 30.
Other Products revenue hit $4.2 billion
Since the discount meant Apple forgoing $50 of revenue for every replacement battery sold, the end of the discount period could see the company making more money in its Other Products segment if its restoring the regular battery price doesn't slow demand. Apple's Other Products revenue hit $4.2 billion in the September quarter compared to $3.2 billion a year earlier.
Core hardware business grew 20%
Growing at 31% YoY, Other Products was Apple's fastest-growing revenue category in the most recent quarter, driving 20.2% YoY growth in the core hardware business. Alphabet (GOOGL), Twitter (TWTR), and Facebook (FB) grew their core advertising businesses by 23.8%, 29%, and 33% YoY, respectively, in the most recent quarter. Revenue jumped 27.6% YoY in Amazon's (AMZN) core e-commerce business in the most recent quarter.