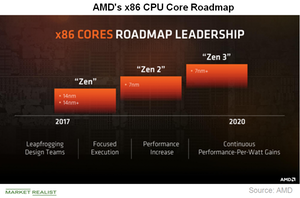 AMD Likely to Steal the Show at CES 2019
By Puja Tayal

Updated
AMD at CES 2019
Previously in this series, we saw that NVIDIA, Intel (INTC), and Advanced Micro Devices (AMD) are set to make several announcements at CES (the Consumer Electronics Show) 2019 from January 8 to 11.
AMD's Keynote at the CES conference website stated, "AMD is catapulting computing, gaming, and visualization technologies forward with the world's first 7nm high-performance CPUs and GPUs." This statement hints that the company is set to launch its third-generation Ryzen CPUs and second-generation Vega GPUs targeted at PCs and workstation computers. The company is building these products on TSMC's (TSM) 7nm (nanometer) node.
Article continues below advertisement
What do rumors say about AMD's Ryzen CPUs? 
At CES 2018, AMD launched its Zen-based Ryzen 2000 CPUs. According to rumors from AdoredTV, the chip supplier is set to launch its upcoming Zen 2-based Ryzen 3000 CPUs at CES 2019. According to AMD's x86 CPU roadmap, the company is scheduled to launch its Zen 2 architecture on the 7nm process node, marking a generational shift in technology.
AMD has launched the past two Ryzen generations starting with the high-end Ryzen 7 series going down to the entry-level Ryzen 3 series and then the enthusiast segment Ryzen Threadripper series. However, AdoredTV stated that, unlike its previous Ryzen rollouts, AMD is likely to start its 2019 Ryzen rollout with the entry-level Ryzen 3 3000 series and then move up the ladder to the high-end Ryzen 7 3000 series.
According to the leak, the Ryzen 3 series could be priced between $99 and $129 and the Ryzen 5 series between $178 and $229.
Rumors: AMD to add Ryzen 9 to its CPU roadmap
AdoredTV stated that AMD's 2019 Ryzen CPU roadmap could see the addition of a new range of Ryzen 9 3000 series, which would target the segment between the high-end Ryzen 7 and enthusiast Ryzen Threadsripper. The leak suggests that the Ryzen 9 series will feature 16 cores and 32 threads and be priced between $449 and $499, half the price of the $999 Threadripper.
If this rumor about the new Ryzen 3000 series is true, AMD might offer tough competition to Intel in both pricing and power. Next in this series, we'll look at rumors surrounding AMD's GPUs.