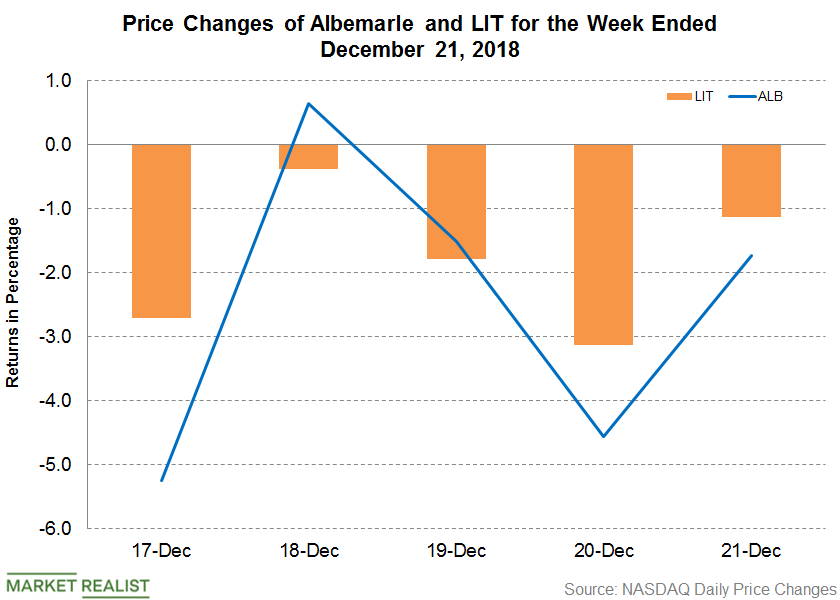 Albemarle Entered a Definitive Agreement with Mineral Resources
By Peter Neil

Dec. 26 2018, Updated 8:04 a.m. ET
Albemarle signed a definitive agreement
On December 17, Albemarle (ALB) announced that it signed a joint agreement with Mineral Resources Australia. As a result of the joint venture, Albemarle will acquire 50% interest in Mineral Resources' Wodgina hard rock lithium project in Western Australia. Albemarle announced the joint venture on November 21.
The deal is estimated to cost Albemarle $1.15 billion. The deal is expected to be completed by the second half of 2019. After the transaction is completed, a new company will be formed to manage the joint venture. Both of the parties will hold equal shares. The joint venture looks to produce spodumene concentrate and battery grade lithium hydroxide. Iron ore and tantalum will remain with Mineral Resources and another third party, respectively.
The companies plan to produce ~100 ktpa (kilo tons per annum) of lithium carbonate equivalent, which will be used as feedstock for the lithium hydroxide plant. The battery grade lithium hydroxide plants will be constructed in two phases of up to 50 ktpa.
Article continues below advertisement
Stock update
Albemarle continued to decline. Orocobre said that the lithium carbonate price declined sharper than analysts expected. As a result, lithium stocks saw a significant decline. Albemarle stock declined 11.9%% and closed at $74.84 for the week ending December 21. The Global X Lithium ETF (LIT), which holds 5.1% of its portfolio in Albemarle, outperformed Albemarle and declined 8.8% for the week.
The decline in the stock price has resulted in the trend reversal of Albemarle's 100-day moving average. Albemarle traded 1.1% below its 100-day moving average price of $97.86. Albemarle stock has been on a declining trend since the beginning of 2018.
On a year-to-date basis, Albemarle has declined 41.5%. Analysts have given Albemarle a target price of $120.40, which implies a return potential of 60.9% over its closing price on December 21. Albemarle's 14-day relative strength index of 18 indicates that the stock has temporarily moved into an oversold position. Investors should be cautious since there could be a possible bounce back from the current levels due to the company's oversold position.
LIT also provides exposure to FMC (FMC), Tesla (TSLA), and Johnson Controls (JCI) with weights of 27.5%, 4.9%, and 2.5%, respectively, as of December 21.