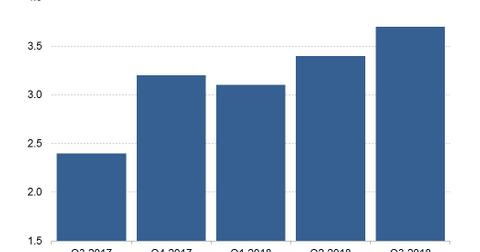 A Big Amazon Reveal May Be around the Corner
By Neha Gupta

Updated
There are over 100 million Prime subscribers
The US Securities and Exchange Commission has asked Amazon (AMZN) to reveal to investors how much money it makes from its Prime program, the Wall Street Journal has reported. Prime is Amazon's membership program. It requires subscribers to pay $119 per year to unlock a range of benefits, including the free delivery of goods purchased from Amazon's marketplace.
For the first time ever, Amazon disclosed in April that it was serving more than 100 million Prime subscribers globally. However, the company still doesn't disclose how much money the Prime program brings in.
Article continues below advertisement
Amazon's subscription revenue rose 52%
The closest we can get to understanding the size of the Prime business is by looking at the numbers Amazon reports for its subscription services, a category that bundles other subscription sales not related to Prime memberships.
In the third quarter, Amazon reported subscription services revenue of $3.7 billion, representing an increase of 52% year-over-year. Amazon is expected to report its fourth-quarter earnings results on January 24.
The SEC can force a detailed revenue breakdown
The SEC's asking Amazon to disclose information about its Prime revenue shows that it's seeking a more detailed revenue breakdown than companies currently provide. In addition to Amazon, the SEC has contacted Alphabet (GOOGL), Ford Motor Company (F), and truck maker PACCAR (PCAR) about more detailed revenue breakdowns. In the case of Alphabet, the regulator asked for a breakdown of its YouTube revenue. Facebook (FB) is also diversifying its business in ways that could put it in on the SEC's radar in terms of detailed revenue disclosure.
In response to the SEC, Amazon said that it didn't believe its Prime revenue information was meaningful or useful. But Amazon can't sit on its Prime revenue information forever. According to the Wall Street Journal, the SEC can force companies to break down revenue however it wants.