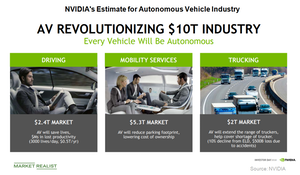 2019 Might See the Advent of Autonomous Driving
By Puja Tayal

Updated
Autonomous driving to be a reality
Previously, we saw that the advent of 5G (fifth generation) technology would give way to mission-critical applications that need fast Internet connectivity with very low latency, as a second of latency could prove to be life-threatening. The deployment of 5G infrastructure in 2019 would help automakers make fully autonomous cars a reality by 2020 or 2021.
Almost every company in the automotive supply chain from mapping companies to sensor companies to automakers to major tech companies like Google (GOOG), Intel (INTC), and NVIDIA (NVDA) are working on SDC (self-driving cars). There are five levels of autonomy with level five being an SDC that has zero human intervention.
Article continues below advertisement
Automakers build in up to four different computers inside a car to perform four different functions: one to monitor surroundings, one to park the car, one to monitor the driver, and one to drive the car. A car needs strong computing power and a single solution to process data collected from all these computers on a real-time basis.
A chip is just one of the many necessary elements of an AV (autonomous vehicles). An AV needs an entire ecosystem including the data center, which has to collect data, prepare DNN (deep neural network), and train the system on that network, test and validate the AV system in a simulation environment, and update the DNN with new situations real time.
Autonomous driving opportunity
NVIDIA believes AV to be a $10 trillion industry with opportunities coming from SDCs, trucks, and mobility services like robotaxis, delivery vans, and buses. The AV industry presents an opportunity for cloud data centers, network infrastructure, automotive supply chain, logistics and taxi services, software developers, and semiconductor manufacturers. Google's Waymo is already testing its robotaxis and expects to launch them commercially in 2019.
The AV trend is expected to pick up in late 2019 and early 2020 when the 5G infrastructure is functional and initial technical headwinds in the launch of new technology have been addressed.
Next, we'll look at some key semiconductor companies expected to benefit from the autonomous driving trend.
Check out all the data we have added to our quote pages. Now you can get a valuation snapshot, earnings and revenue estimates, and historical data as well as dividend info. Take a look!