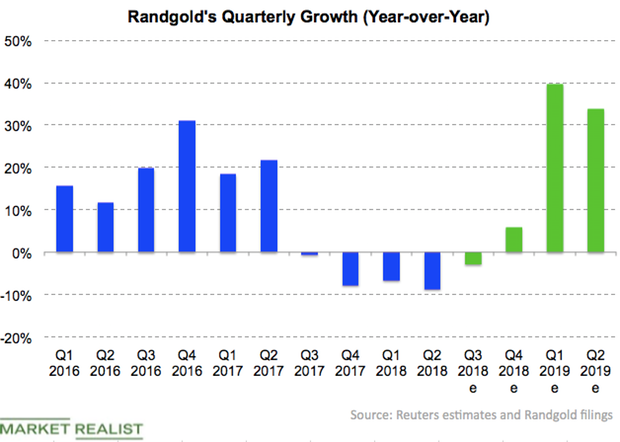 Why Randgold Shareholders Deserve More from the Barrick Deal
By VanEck

Dec. 4 2020, Updated 10:53 a.m. ET
VanEck
Mr. Bristow went on to create an extraordinary company. He is an exploration geologist and will be the first we know of to head a major gold company. Unlike at most companies, geologists play a central role in Randgold. Geologists tend to be free-spirited, nonconformist, and sometimes a bit eccentric. They are scientists who take risks on limited information out of necessity. There is only so much geologic information to be gained from the surface of the earth, yet the geologist must decipher millions of years of geologic history to generate drill targets. Finding a mineable gold deposit hidden beneath the surface is like looking for the proverbial needle in the haystack. It takes an abundance of drilling that is mostly unsuccessful. Exploration costs money, but it is key to value creation in the long term. When gold is down and money gets tight, it is the geologists who are asked to leave as exploration budgets are slashed. I lost my job twice as a young exploration geologist, which was the primary motivation behind an eventual career switch to finance. A master's degree and more than a decade of experience left Nevada when we moved to New York. Many geologists have had similar career changes. This lack of consistency in exploration contributes to the lack of discoveries that the industry faces today. Randgold's geologists have an unparalleled record of discovery in West Africa due to a consistent commitment to exploration excellence. The merger enables Randgold's exploration philosophy to come to the Americas.
Article continues below advertisement
Market Realist
The Barrick–Randgold deal could mean diversification for the combined entity. Although most of Randgold's mines are located in Africa, Barrick Gold's (ABX) mines are primarily located in safer jurisdictions, including the Americas. The new company is expected to have access to Randgold's copper assets.
The combined company is expected to produce around 6.5 million ounces of gold per year, beating its nearest competitor, Newmont Mining (NEM).
Randgold's (GOLD) year-over-year revenue growth has been negative in the last few quarters, as the graph above shows. That could change soon, however, according to Reuters' estimates. Barrick Gold could well be buying Randgold at a bargain.
Randgold's shareholders are scheduled to vote in November. They may vote against the merger, as they aren't receiving a premium on the deal, especially after Barrick's missteps in the past. Randgold's CEO, Mark Bristow, is expected to become president and CEO of the new company.