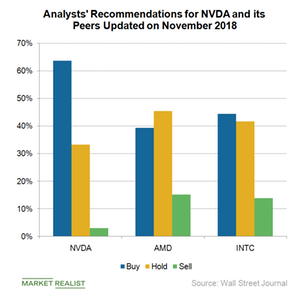 Why Analysts Are Bearish on NVIDIA's Short-Term Outlook
NVIDIA's short-term outlook
Wall Street analysts are bullish on NVIDIA's (NVDA) long-term growth potential and have therefore given the stock "buy" recommendations. However, the stock could see strong volatility in the short term due to weakness in the PC gaming business.
Article continues below advertisement
Bank of America Merrill Lynch
According to a Barron's article dated October 25, Bank of America Merrill Lynch analyst Vivek Arya lowered his price target for NVIDIA from $360 to $300 after its GPU (graphics processing unit) rival Advanced Micro Devices (AMD) reported weak earnings and guidance due to a fall in crypto-related GPU sales and high retail channel inventory. AMD's weak earnings suggest that NVIDIA's gaming business will likely also report weak earnings in the second half of its fiscal 2019.
However, Arya stated that NVIDIA's leadership position in the secular growth trends of AI, gaming, and autonomous cars presented a long-term upside.
UBS
UBS analyst Timothy Arcuri raised concerns about NVIDIA's Turing GPU, which has been facing problems. A Business Insider article citing Arcuri's note to clients stated that the company will likely face a slowdown in 2019 as it transitions to the Turing architecture, which has been ten years in the making and offers innovative technologies.
Arcuri stated that Turing offers innovative features such as real-time ray tracing and DLSS (deep learning super-sampling), which improve image quality and make games more cinematic. However, this GPU is ahead of its time, as there is no adequate software supporting these features nor are there games that can leverage ray tracing. The transition to the new technology could take longer than Wall Street expects, but once the necessary ecosystem is in place, Turing could have strong growth potential.
Arcuri stated that excluding ray tracing and DLSS, Turing does not provide a significant performance boost compared to its predecessor, Pascal, so gamers will likely be discouraged from upgrading to Turing. Thus, Turing's sales will likely be low in the second half of fiscal 2019, during which time NVIDIA's gaming business will depend largely upon the ~70 million Maxwell/Kepler users who have yet to upgrade to Pascal.
Given the uncertainty surrounding NVIDIA's gaming business, Arcuri has lowered his price target for NVIDIA from $285 to $260.