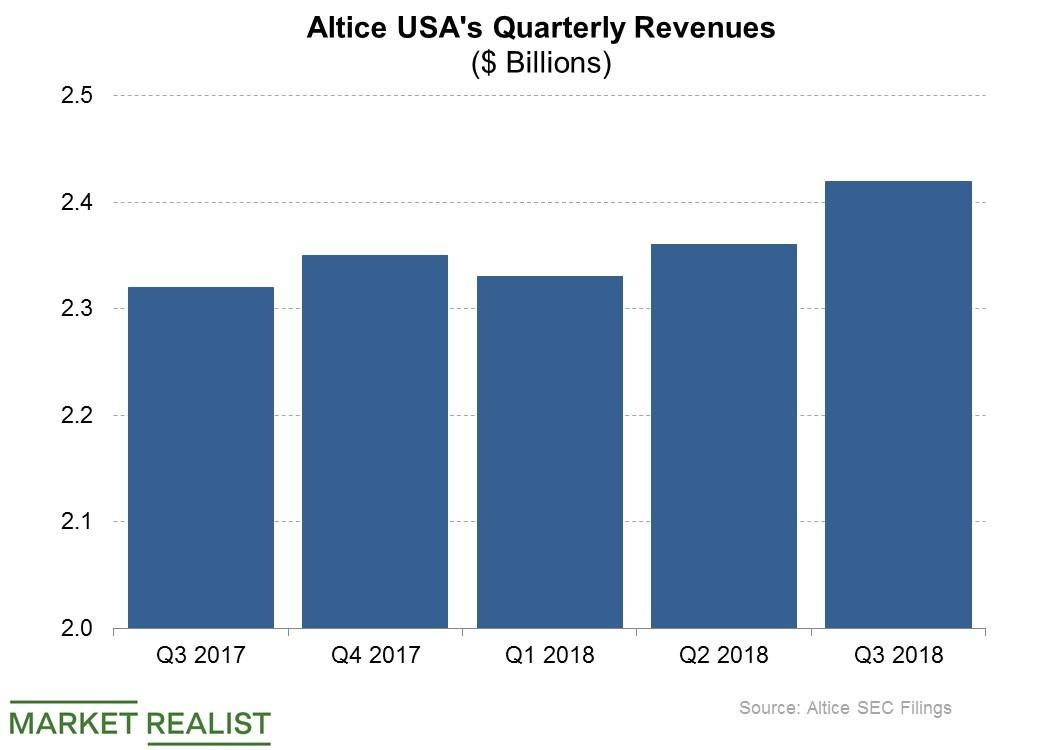 Why Altice Favors Fixed-Wireless Consolidation
By Ruchi Gupta

Nov. 28 2018, Updated 1:10 p.m. ET
Companies not utilizing spectrum
Altice USA (ATUS) is rooting for the consolidation of fixed-wireless providers in the United States. On the company's third-quarter earnings conference call and at an investor event in Barcelona earlier this month, Altice USA CEO Dexter Goei made a powerful case for fixed-wireless consolidation.
According to Goei, there are companies out there with spectrum that they aren't utilizing, and he's of the view that consolidation could help put this unused spectrum to use, particularly in its footprints. Additionally, the Altice USA boss said that the United States is lagging when it comes to fixed-wireless consolidation.
Article continues below advertisement
Altice USA opposes T-Mobile–Sprint merger
Major fixed-wireless service providers in the United States include Verizon (VZ) and AT&T (T). Last month, Verizon began offering fixed 5G wireless services in several cities in the United States. AT&T is also on track to launch 5G services in up to a dozen markets in the country by the year's end. T-Mobile (TMUS) is planning to enter the home fixed-wireless market if it succeeds in acquiring its rival Sprint (S).
Altice USA, which is on track to launch its own wireless service next year using Sprint's network, has opposed the T-Mobile–Sprint merger proposal in its present form, claiming it would stifle competition.
Revenue up 4.1%
Altice USA is the fourth-largest cable company in the United States. The company's revenue rose 4.1% to $2.4 billion in the third quarter. It reported a profit of $32.6 million in the quarter, reversing its loss of $192.6 million a year earlier.