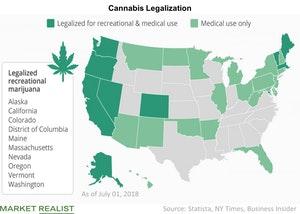 Why a Blue Wave May Prove Positive for a Green (Cannabis) Wave
The Democrats take over the House
As we saw in the earlier part of this series, the Cole Memo was an Obama-era policy that suggests that Democrats were more open to the marijuana industry. With this in mind, on November 7, the cannabis sector (MJ) got a further boost following the mid-term elections, in which Democrats were able to win the majority in the House of Representatives.
Article continues below advertisement
States that have legalized cannabis
As the above chart shows, several states in the US have legalized cannabis for recreational as well as medical purposes. Nine states and the District of Columbia have legalized cannabis for both recreational and medical use. Many of these states and the District of Columbia have largely leaned towards the Democratic party. Alaska has largely leaned towards the Republican party, while Nevada and Colorado are usually considered swing states.
Given this backdrop, it seems that Democrats have been more open to recreational marijuana, which has recently boosted Canadian companies such as Canopy Growth (WEED) (CGC), Aurora Cannabis (ACB) (ACBFF), Tilray (TLRY), and Cronos Group (CRON).
If we were to consider the 2018 mid-term election a referendum about Donald Trump's presidency, and if the sentiment continues through the 2020 election, then there could be hope for the marijuana industry that a Democratic government may further warm up to recreational cannabis.
Next, we'll discuss when recreational cannabis may become legal in the US on a national level.