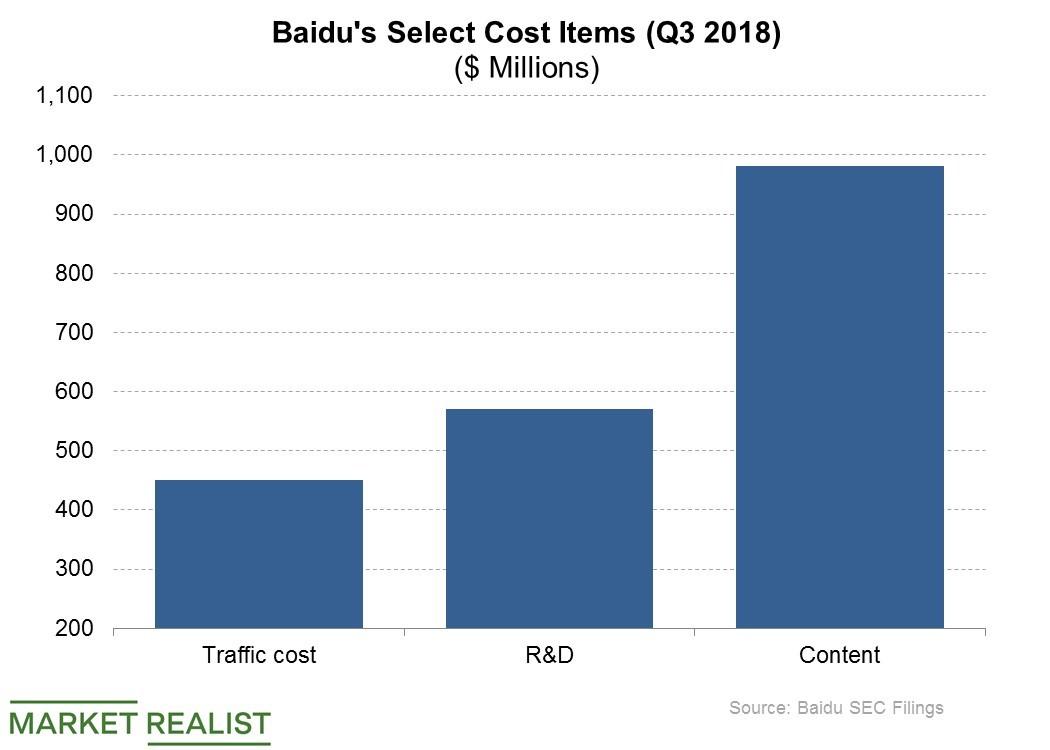 When Will Baidu's Cost Drivers Start Paying Off?
By Neha Gupta

Dec. 3 2018, Updated 10:30 a.m. ET
Content expenses soared 73%
Baidu's (BIDU) expenses jumped 26.6% YoY (year-over-year) to $3.4 billion in the third quarter. Alphabet (GOOGL) and Yandex (YNDX) reported expense increases of 27% and 23.6%, respectively, YoY in the period. Expenses rose 26.7% at JD.com (JD) in the quarter.
Major cost drivers at Baidu recently have been content acquisitions and R&D (research and development). Baidu's content expenses jumped 73% YoY mainly due to an increase in content costs at iQiyi (IQ), the company's Netflix-like online video service. R&D expenses rose 21% YoY driven by Baidu's continued investment in AI research and AI-based products such as the DuerOS voice assistant and the Apolong self-driving bus.
Article continues below advertisement
Baidu booked $1.0 billion in revenue courtesy of iQiyi
When will these cost drivers start paying off for Baidu? In the case of iQiyi, the business is already making money, and its future looks bright thanks to the secular shift to online video from traditional TV and China's swelling Internet population and number of middle-class consumers.
In the third quarter, Baidu said iQiyi contributed more than $1.0 billion to its top line, representing ~24% of its total revenue in the period. iQiyi's revenue rose 48% YoY in the third quarter, and the company is forecasting up to 49% YoY revenue growth for the fourth quarter.
Substantial DuerOS monetization on the horizon
In the case of R&D-linked programs, Baidu is about to start commercializing its Apolong bus, while its DuerOS voice assistant is witnessing strong adoption by developers. According to Baidu, its DuerOS installed base reached 141 million devices at the end of September, up from 100 million devices in July. Sony (SNE) is one of Baidu's DuerOS clients. Sony has adopted DuerOS in its smart TVs to enable voice controls.
Baidu has said that it expects to start generating substantial revenue from DuerOS in 2020.