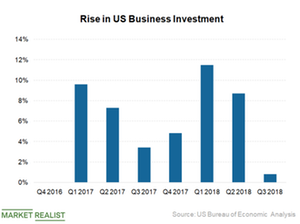 What Made Powell Change His Mind?
By Anuradha Garg

Aug. 18 2019, Updated 3:14 p.m. ET
Change in tone
As we discussed in the previous part of this series, Fed Chairman Jerome Powell's speech yesterday had a different tone than the one he made in October. Along with other data for the US economy, markets reacted sharply to the speech, ultimately falling into correction territory.
Article continues below advertisement
Slowing leading indicators
So, what changed over the last two months or so that led Powell to change his mind? Probably, the signs over the last few months have been less than encouraging. The housing sector (XLB) in the United States (SPY)(IVV) has been slowing significantly. Another important leading indicator, business investment, is also slowing. In the third quarter, business spending declined to just 0.8%—its slowest pace since late 2016.
Trump's tirade
Plus, markets (DIA)(QQQ) have been quite volatile for the last two months. One of the key drivers of this volatility is the Fed's hawkishness. President Trump has stepped up his attacks against the Fed chair over the last couple of months. During an interview with the Wall Street Journal, Trump came for Powell, saying, "Every time we do something great, he raises the interest rates." On November 27, in an interview with the Washington Post, Trump continued, saying "he is 'not even a little bit happy' with his hand-selected central bank chairman."
However, while the markets have rallied on the more-dovish-than-expected tone from the Fed chairman, many market participants feel that the markets heard what they wanted to. We'll explain this view more in the next part of this series.