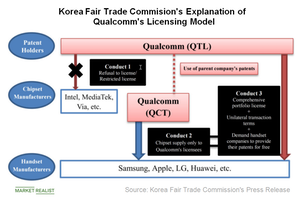 US Federal Trade Commission's Preliminary Ruling against Qualcomm
By Puja Tayal

Updated
US FTC's lawsuit against Qualcomm 
Qualcomm (QCOM) has been looking to settle its legal and regulatory issues, and it has achieved success in some of its efforts. The latest preliminary ruling among several Qualcomm lawsuits was by the US FTC (Federal Trade Commission). In early 2017, the FTC had accused Qualcomm of antitrust issues.
Qualcomm has been looking to settle this issue out of court, so it and the FTC asked the US District Court to delay the ruling by up to 30 days. However, Judge Lucy Koh in the US District Court for the Northern District of California denied that motion on November 6. The lawsuit is scheduled to go to trial next year.
Article continues below advertisement
Preliminary ruling of US FTC
In her preliminary ruling, Koh stated that Qualcomm must license some of its technology necessary for making modem chips to other chip makers, such as Intel (INTC) and MediaTek. The modem connects a smartphone to wireless data networks. Supporting its ruling, the US FTC stated that Qualcomm had voluntarily agreed to the TIA (Telecommunications Industry Association) and the ATUS (Alliance for Telecommunications Industry Solutions) FRAND (free and nondiscriminatory) licensing requirements.
The TIA/ATUS agreements require Qualcomm to license its SEPs (standards-essential patent) to competitors. By excluding competitors, it had violated the nondiscrimination pledge. However, Qualcomm argued that those agreements didn't apply to chip suppliers but to handset makers and other original equipment manufacturers.
Koh countered with a note that if Qualcomm's argument was true, an SEP holder could easily fend off competition by making its technology a cellular standard. She also pointed to a past case between Qualcomm and Ericsson (ERIC) where Qualcomm had argued against discriminatory licensing to fend off a patent infringement lawsuit with Ericsson.
Next, we'll see Qualcomm's argument to this preliminary ruling.