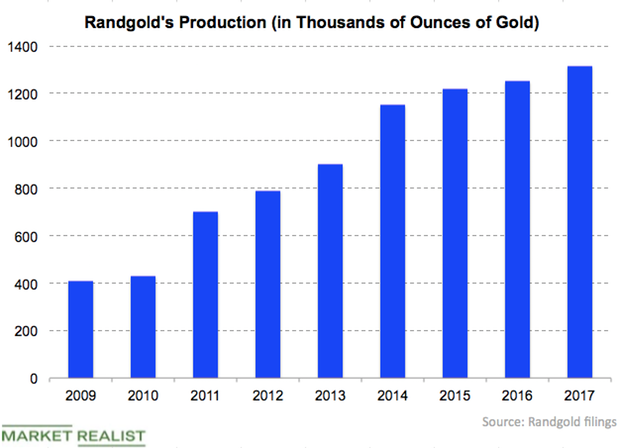 These Mid-Tier Gold Miners Have Been Outperforming since 2015
By VanEck

Nov. 6 2018, Updated 3:16 p.m. ET
Van Eck
Analyzing the Barrick-Randgold Merger
As we have followed the gold market over the years, there are three companies that stand out for their persistent ability to create value. Mid-tier producers Agnico Eagle Mines (4.1% of net assets*), B2Gold (6.8% of net assets*), and Randgold, have been able to grow their businesses through accretive acquisitions and exploration success. Agnico and B2Gold build their own mines, avoiding a reliance on outside engineering firms. Randgold and B2Gold have become adept at mitigating geopolitical and social risk with successful operations in Mali, Democratic Republic of Congo (DRC), Ivory Coast, Namibia, Nicaragua, and the Philippines. Randgold's exploration success has revealed gold deposits that are so rich they are able to design mines that generate robust returns at $1,000 per ounce. All three companies are headed by long-tenured CEOs.
Article continues below advertisement
Now, one of these companies is planning to merge with the largest gold company in the world. On September 24, at the Denver Gold Forum, John Thornton, Chairman of Barrick, and Mark Bristow, CEO of Randgold, announced the merger of their companies. The proposed merger will be voted by shareholders in November, and we find several aspects of it intriguing.
Market Realist
Agnico Eagle Mines (AEM), B2Gold (BTG), and Randgold (GOLD) have all created long-term value for shareholders. These stocks are up 58.0%, 132.0%, and 25.0%, respectively. These companies have been able to ramp up production due to the factors mentioned above.
As the graph above shows, Randgold has more than tripled its production from 2009 and 2017. Last year, Randgold produced 1.3 million ounces of gold.
Randgold does most of its mining in Africa. Its Kibali mine in the Democratic Republic of Congo is one of its most important mines and is also one of the world's largest underground mines.
The Kibali mine produced a whopping ~202,000 ounces of gold during the second quarter, up 17.0% sequentially and up 43.0% from the second quarter of 2017. The company produced ~313,000 ounces of gold during the second quarter, up 9.0% sequentially.