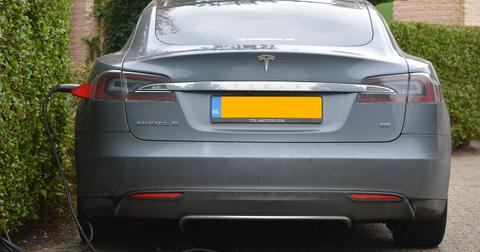 Tesla Stock: Why the Bulls Aren't Paying Heed to Negative News
By Jitendra Parashar

Updated
Tesla stock
Tesla (TSLA) stock has remained one of the most volatile auto stocks in the last couple of months. During the period, the stock has witnessed movements of over 10%—both upward and downward—over several sessions. In the fourth quarter, Tesla has risen 30.8% against the S&P 500 Index's 6.6% fall as of November 2.
Mainstream automakers (XLY) General Motors (GM) and Ford Motor Company (F) have risen 7.0% and 1.4% so far in the fourth quarter, respectively. In contrast, luxury carmaker Ferrari (RACE) has seen a 12.7% fall so far in the quarter.
Article continues below advertisement
Recent negative news
On November 2, in an SEC filing, Tesla revealed, "The SEC has issued subpoenas to Tesla in connection with (a) Mr. Musk's prior statement that he was considering taking Tesla private and (b) certain projections that we made for Model 3 production rates during 2017 and other public statements relating to Model 3 production. The DOJ has also asked us to voluntarily provide it with information about each of these matters and is investigating."
The SEC has already agreed to settle the case related to Tesla CEO Elon Musk's "taking Tesla private" statement. However, its of subpoenas on Tesla's Model 3 production rate projections has been a negative factor, driving Tesla stock down earlier today. At 10:10 AM EST, Tesla stock was trading at a fall of 4.6% from the previous session's closing price.
The bulls aren't ready to give up
Later in the day, Tesla stock recovered most of these losses. At 1:55 PM EST, it was trading at a minor fall of 0.8% for the day. It's important to note that Tesla's critics have, on many occasions, criticized it for bad execution. However, the company has managed to prove many of these critics wrong in the last couple of quarters by meeting its Model 3 production and delivery goals.
Tesla's third-quarter profit was largely unexpected by Wall Street analysts, which boosted investors' optimism and could be one of the reasons why Tesla bulls have been able to ignore most of the losses in its stock following the recent negative news.
Going forward, Tesla could continue to face challenges as it strives to sustain profitability in the coming quarters. Investors will also likely be keeping an eye on Tesla's ability to expand its global market presence, especially in China, in the coming quarters.