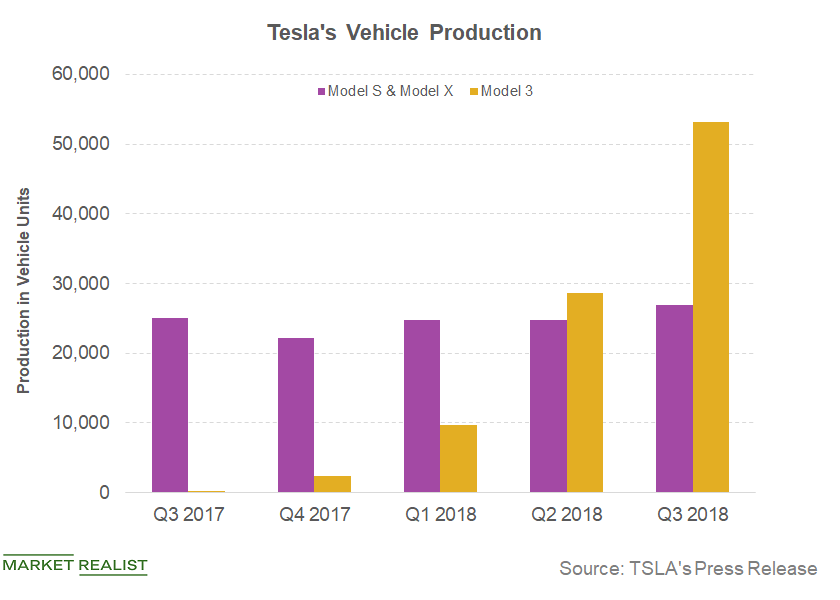 Tesla: Our Third Auto Stock Pick on Black Friday
Tesla 
Tesla (TSLA), a popular US electric automaker, is third on our list of the top four long-term auto stock investments on Black Friday. In 2017, Tesla had a positive return of 45.7%. As of November 21, Tesla stock has risen 8.6% year-to-date with a 27.7% gain in the fourth quarter. Tesla stock rose 27.4% in October. Tesla surprised the market by turning profitable in the third quarter. In contrast, the S&P 500 Index fell 6.9% in October.
Article continues below advertisement
Positive factors
In the first half of 2018, Tesla was widely criticized by analysts for the delayed Model 3 production ramp-up. Model 3 is Tesla's affordable electric vehicle. Tesla met its Model 3 production goal in the second and third quarter.
In the third quarter, Tesla reported an adjusted EPS of $2.90—compared to analysts' consensus estimates of an adjusted EPS of -$0.19. During the third quarter, the company's revenues increased ~129% YoY (year-over-year) and 71% sequentially to ~$6.8 billion. Tesla delivered 27,710 units of Model S and Model X and 56,065 units of Model 3 in the third quarter. In the fourth quarter, Tesla expects to remain profitable on a GAAP basis with the help of a consistent increase in its vehicle production and deliveries.
In the last few years, other mainstream automakers (XLY) including General Motors (GM) and Ford (F) launched their electric vehicles in the US market. However, their electric vehicles couldn't even get close to Tesla's success in terms of sales and popularity.
While China's NIO (NIO) hasn't established its brand in the market, Tesla has already acquired the reputation of being the most popular electric car brand globally.
Citron Research turned positive
On October 5, Citron Research, a well-known Tesla bear, turned positive on Tesla for the first time. In a note, Citron said, "Tesla is destroying the competition" by pulling customers from auto companies including BMW, Mercedes, Toyota, and Honda.
Interestingly, the research firm's note also mentioned that "while everyone is focused on Elon smoking weed, he is quietly smoking the whole automotive industry."
Next, we'll discuss the fourth pick on our Black Friday shopping list.