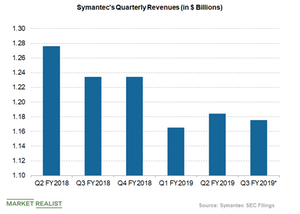 Symantec Projects Enterprise Security Segment Will Boost Revenues
By Sophia Nicholson

Updated
Symantec revenues in Q2
Symantec (SYMC) topped its revenue estimates in the second quarter of fiscal 2019. However, revenues fell from the year-ago quarter. Revenues of $1.18 billion were ahead of Wall Street expectations by 2.6% but were down 5.2% YoY from the year-ago quarter due to ongoing challenges in the enterprise security segment, which led to a decline in implied billings.
Article continues below advertisement
Factors that impacted revenues
Symantec's revenues declined in the second quarter due to a decline in the company's revenue in the enterprise security division, offsetting the revenue gains in Symantec's consumer security division. Implied billings also fell 7.6% YoY in the quarter to $1.16 billion. Contract liabilities of $2.76 billion increased 8% YoY after adjusting for acquisitions and divestitures.
The consumer security segment, which accounts for more than half of the company's total revenue, delivered revenues of $601 million in the quarter, up 8.5% YoY. The segment also exceeded Wall Street expectations of $582.4 million. The segment's revenues are growing on the back of higher earnings per user and cross-selling to its consumers. Digital safety adoption and retention rates have also risen in the quarter.
In the enterprise security business, the company reported revenue of $574 million in the second quarter, missing analysts' estimates of $585.9 million. Revenues also declined 16.3% YoY from the year-ago quarter. Implied billings were down 14.5% YoY to $583 million in the second quarter due to longer sales cycles in the multiproduct platform. However, the company's executives seem to be optimistic about the segment's performance for the third and fourth quarters and expect delivery of over $1.7 billion implied billings in the second half of the fiscal year. The company anticipates the segment to recover, as it has sufficient sales capacity and cyber defense leadership.
Peer comparison
Microsoft (MSFT) reported its results for the first quarter of fiscal 2019 on October 24. The software giant beat both revenue and earnings estimates. Oracle's (ORCL) earnings exceeded estimates, but revenues missed the analysts' expectations for the first quarter of fiscal 2019. IBM (IBM) also missed revenue estimates in its third quarter of fiscal 2018, though it slightly exceeded Wall Street's earnings estimates.