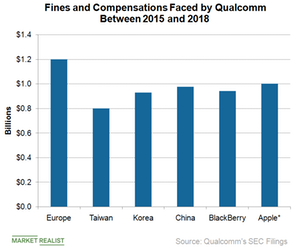 Qualcomm Invests in Taiwan to Settle Antitrust Violation
By Puja Tayal

Updated
Qualcomm reaches a settlement with Taiwan's FTC
In October 2017, the TFTC (Taiwan Fair Trade Commission) fined Qualcomm (QCOM) $774 million for antitrust violations. The Taiwan (EWT) FTC stated that Qualcomm did not license its modem technology to other industry players. Qualcomm appealed the fine's amount and the calculation method, as it did not justify the revenue it had earned from Taiwan.
In August, Qualcomm resolved the issue with a $93 million fine, which it had already paid, and an agreement to invest $700 million in Taiwan over five years. The resolution does not force Qualcomm to adopt chip-level licensing or set any specific financial terms. The company has committed to good-faith negotiations that would benefit both licensees and SEP owners.
Article continues below advertisement
Qualcomm invests in Taiwan
Over the next five years, Qualcomm will invest in improving Taiwan's mobile and semiconductor ecosystem. DigiTimes reported that Qualcomm would set up three technology centers in Taiwan: a 5G (fifth-generation) module research and design center, a millimeter-wave testing center, and a biometric sensing technology center. All three centers would be set up in Hsinchu and would form a part of its new Center for Operations, Manufacturing Engineering, and Testing.
Qualcomm also plans to set up a multimedia research and development center and a mobile AI enablement center in Taiwan in 2019. Apart from these investments, Qualcomm is expected to partner with Taiwan Semiconductor Manufacturing Company (TSM) to manufacture its systems-on-chip for 5G, Internet of Things, and AI applications.
Now Qualcomm is focusing on reaching a settlement with the US FTC and Apple (AAPL). There's a global-level legal battle between Apple and Qualcomm, and the settlement of this issue would significantly improve the latter's earnings. We will look into this next.