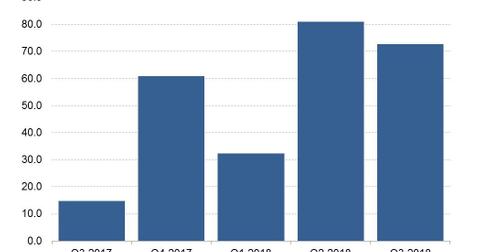 Is Yandex's CEO Leaving the Company?
By Ruchi Gupta

Updated
Yandex CEO holds 48% voting rights in the company
Ahead of Yandex's (YNDX) third-quarter earnings report, rumors swirled that Russia's state-controlled lender, Sberbank (SBRCY), was considering buying a large stake in the company. The rumors further suggested that Yandex's CEO, Arkady Volozh, would sell his stake and possibly leave the company as part of a transaction involving Sberbank.
But Sberbank has denied having any plans to purchase a large stake in Yandex, and Volozh has since said that he's committed to leading the company to new heights and has no intention of selling his stake. Volozh is a large shareholder in Yandex, with his holding representing a ~10% economic interest in the company. He holds 48% voting rights.
Article continues below advertisement
Yandex and Sberbank launch Beru marketplace
While Sberbank may not be seeking to acquire a large stake in Yandex, the two are close allies. Yandex and Sberbank have teamed up on an e-commerce joint venture under the Yandex.Market brand. They have recently launched an online marketplace called Beru, which is focused on the domestic market. The launch of Beru came less than two months after Alibaba (BABA) teamed up with several Russian companies on a cross-border e-commerce joint venture built around its AliExpress brand.
The launch of Beru sets the stage for a clash between Yandex and Sberbank on the one hand and Alibaba, eBay (EBAY), and a host of specialist online shopping sites on the other. eBay launched domestic selling in Russia in 2014. Amazon (AMZN), the world's top e-commerce company, has stayed away from the Russian market.
Yandex's profits soared 459%
Yandex made $72.7 million in profits in the third quarter, up 459% from a year earlier.