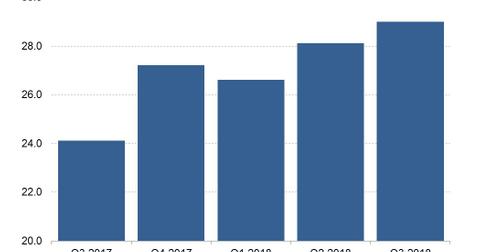 Is Google's Chinese Search Engine Plan Clear Now?
By Neha Gupta

Updated
Executives discuss China search engine
The issue of Alphabet's (GOOGL) Google returning to China with a search engine keeps coming up. In recent weeks, Alphabet executives have tried to address this issue. When the question about China came up during Alphabet's third-quarter conference call on October 25, Google CEO Sundar Pichai only said the company is always looking for ways to better serve the Chinese market, without disclosing whether a Chinese search engine was in the works.
Article continues below advertisement
However, in an interview with The New York Times, Pichai suggested that a Chinese search engine was not currently a top priority for Google. And in a recent Bloomberg interview, Alphabet chairman John Hennessy seemed to doubt if Google would be better off introducing a censored search engine in China.
Google sought to avoid China's censorship
Google stopped offering a search engine service in China in 2010 after the company disagreed with China's information censorship demands. However, in recent months, there have been reports about Google planning to return to China with a search engine that would filter information in a way the country's government wishes.
Baidu (BIDU), a homegrown company, is China's top search engine provider. Its stock fell following reports Google was planning a return to China's search engine market.
An attractive market for advertising companies
China's expanding Internet population and swelling middle-class consumer base make it an attractive market for advertising companies, including Google. The company makes money from its search engine service through advertising. Its advertising sales increased 20.3% YoY (year-over-year) to $29 billion in the third quarter. Facebook (FB), Twitter (TWTR), and Yelp (YELP) grew their advertising revenue by 33%, 29%, and 16% YoY, respectively, in the third quarter, while Baidu's advertising revenue rose 18% YoY.