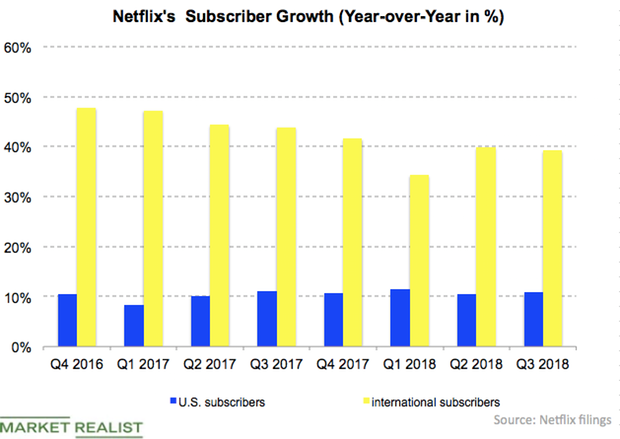 How Netflix Plans to Attract Asian Customers
Netflix is testing a cheap mobile-only subscription
Netflix (NFLX) added 7 million subscribers during the third quarter, as its international markets continue to drive subscriber growth. However, the streaming giant has not fully penetrated Asia and other emerging markets. Netflix still has a huge scope to grow in countries like India and Indonesia, which have growing middle-class populations. However, a vast percentage of their population remains price-sensitive.
Netflix's CEO, Reed Hastings, told Bloomberg that it is testing cheaper mobile-only subscriptions to attract more Asian viewers. According to The Star, Netflix has already started testing a mobile-only subscription. The basic version is priced at only 17 Malaysian ringgits (or $4.1).
Article continues below advertisement
A cheaper package could attract price-sensitive customers
Such a move could help Netflix bag more subscribers in the price-sensitive Asian markets, which are highly populated. Netflix has been increasing the amount of local content on its platform in Asia, especially India. Netflix announced recently that it will be launching eight original movies and one original series in India.
The company has mentioned in the past that it's bullish on its business in India. Netflix has a small market share in India, which is dominated by Hotstar, an app owned by Star India, a subsidiary of Fox.
Despite robust earnings, Netflix's stock has declined recently as a part of the overall tech sell-off. The stock is still up nearly 50% year-to-date.