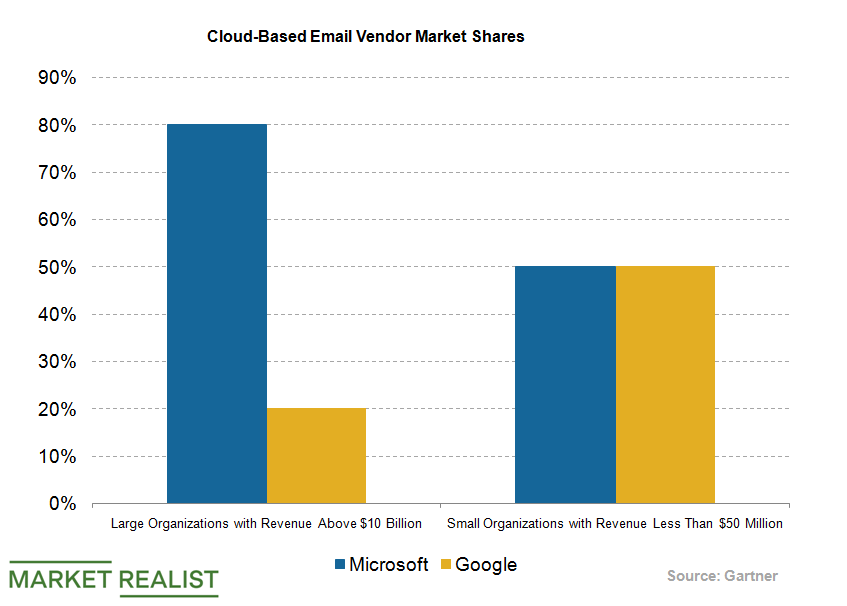 How Microsoft 365 Quickly Became a Multibillion-Dollar Business
By Puneet Sikka

May. 4 2021, Updated 10:19 a.m. ET
Microsoft 365 has become a multibillion-dollar business
In the previous article, we discussed how Microsoft (MSFT) has been managing to accelerate its revenue growth despite it being a large-cap company. Its constant release of innovative products has been key to its strategy. Microsoft launched Microsoft 365 about a year ago, and the company claims that it's already a multibillion-dollar business. You may have heard about Office 365, but what's Microsoft 365?
Article continues below advertisement
Microsoft 365 is an integrated solution of Office 365, Windows 10, Security, and Enterprise Mobility. Microsoft sells this solution on a subscription basis. Microsoft 365 was initially launched with the intention of helping small and medium businesses that don't have the resources to separately manage the collaboration and productivity features of Office 365 along with device management and security solutions. However, Microsoft itself has been pleasantly surprised by the success of Microsoft 365. According to Microsoft, this solution has been adopted not only by small businesses but also by large organizations such as Eli Lilly and Company (LLY) and Rio Tinto (RIO).
Google has been trying to break Microsoft's productivity software monopoly
Microsoft's solutions have been popular in the corporate world. However, Google (GOOG), with its own suite of productivity and collaboration tools, has started to penetrate the enterprise sector, giving tough competition to Microsoft. Even though Google is a late entrant in the productivity software market, it has successfully managed to penetrate the enterprise market with its cheaper solutions.
The small and medium (or SMB) industries are the ones that have adopted Google's solutions, as they typically have lower budgets. According to a report from Gartner, and as the chart above shows, although Microsoft takes the lion's share of the cloud-based email market among larger organizations, Google and Microsoft are neck and neck when it comes to smaller organizations.
The launch of Microsoft 365 may have been an attempt by Microsoft to wrest the initiative back from Google, especially in the SMB market.