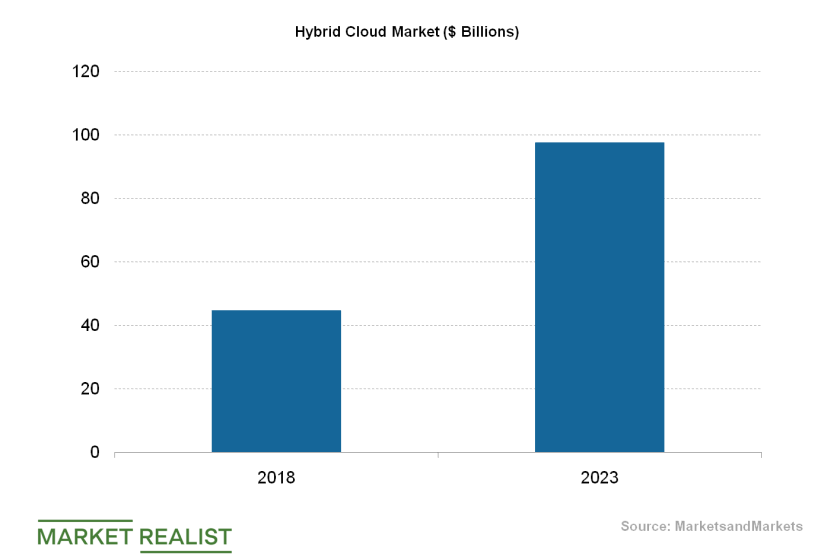 How IBM Plans to Compete in the Hybrid Cloud Market
By Puneet Sikka

Dec. 3 2018, Updated 9:02 a.m. ET
The hybrid cloud could be a $100 billion market by 2023
In this series, we've discussed the cloud market's growth potential. The market's most important segment may be the hybrid cloud. As the name suggests, the hybrid cloud is a platform where on-premises and cloud workloads are shared. According to MarketsandMarkets and as the chart below shows, the hybrid cloud market is expected to grow from $44.6 billion this year to $97.6 billion in 2022 at a compound annual rate of 17%.
Article continues below advertisement
IBM has launched some innovative products lately to boost its presence in the hybrid cloud market. About a year back, IBM released IBM Private Cloud, a product that allows companies to launch and integrate cloud applications within a hybrid cloud environment. IBM managed to win around 100 new clients for IBM Private Cloud in the last quarter alone, taking its total client wins to over 400.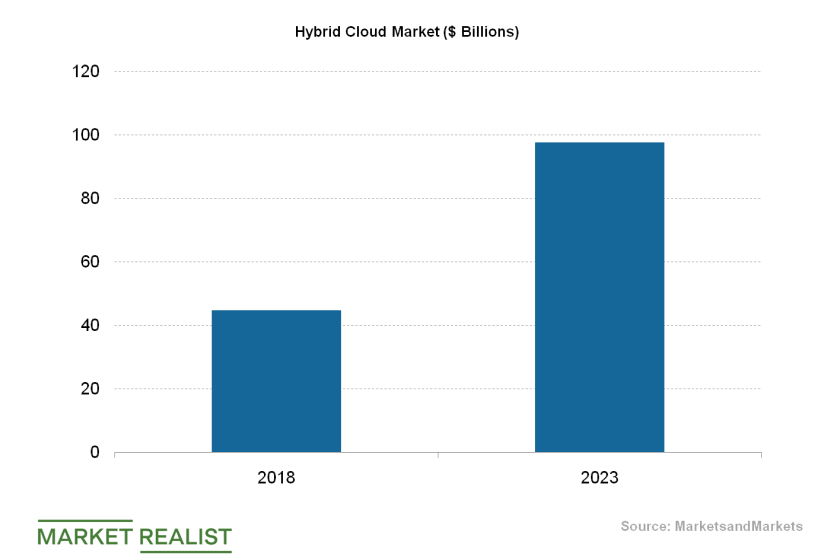 Competition for IBM growing in the hybrid cloud market
IBM recently announced the launch of IBM Multicloud Manager, an open-technology platform for combining and migrating apps from different cloud platforms, such as Amazon's (AMZN) and Microsoft's (MSFT). IBM has also launched AI OpenScale Technology, a platform for managing AI applications.
IBM is launching these products to remain competitive in the hybrid cloud market, which is heating up. Microsoft's Azure Stack, a hybrid cloud product, is gaining traction, and last year, Google's (GOOG) Cloud platform announced a partnership with Nutanix (NTNX) to help clients manage their hybrid cloud applications better. Google also forged a similar partnership with Cisco (CSCO) last year, and another similar partnership was signed by Amazon Web Services with VMware (VMW) a couple of years back.