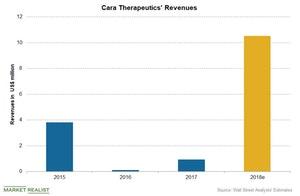 How Has Cara Therapeutics' 2018 Performance Shaken Out?
By Mike Benson

Updated
Cara Therapeutics
Cara Therapeutics (CARA) is a clinical-stage biotechnology company developing new chemical entities for managing pain and pruritus. Cara Therapeutics reported EPS of -$0.52 on revenue of $2.87 million in the second quarter.
The chart above compares Cara Therapeutics' revenues over the last few years and its estimate for 2018.
Estimate for 2018
Analysts expect Cara Therapeutics to report revenue of $10.51 million in 2018 compared to $0.91 million in 2017.
Analysts' recommendations
Analysts expect the stock's price to rise ~31.6% in the next 12 months. Their consensus recommendation shows a 12-month target price of $26.89 compared to CARA's price of $20.43 on November 8.
Nine analysts are tracking Cara Therapeutics stock. Of these, four have given it "strong buys," and five have given it "buys." None have given it "holds" or "sells." The consensus rating for Cara Therapeutics stands at 1.56, which represents a "strong buy" for momentum investors.
Market cap
Cara Therapeutics' market cap is ~$805.9 million as of November 9.
Cara Therapeutics has a total of ~39.4 million shares outstanding. Of these, its free float shares total ~34.7 million, nearly 87.9% of its total outstanding shares. Institutions hold ~49.4% of its total shares, while strategic entities own ~12.1%.
The SPDR S&P Biotech ETF (XBI) holds 0.6% in Cara Therapeutics, 0.2% in MacroGenics (MGNX), 0.8% in Immunogen (IMGN), and 1.0% in Myriad Genetics (MYGN).