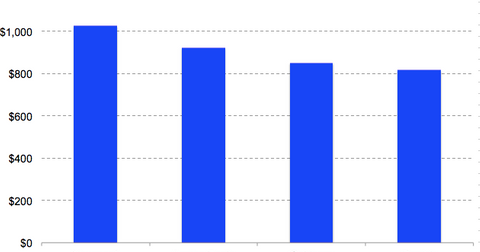 Gold Miners Have Been Able to Control Costs
By VanEck

Updated
VanEck
Recent Industry Conferences Provide Insight on Producers and Junior Developers
We attended both the Precious Metals Summit and Denver Gold Forum recently. Combined, these are the most significant gatherings of institutional investors and gold companies in the world. As usual, we found some interesting discoveries and developments to follow up on with the smaller companies that attended the Precious Metals Summit. This is a difficult environment in which to raise capital for the junior developers. Fortunately, there was a heavy presence of corporate development teams from gold producers globally at the event. Corporates have been a key source of junior funding in this cycle, and we expect this trend to continue.
Article continues below advertisement
The producers we saw at the Denver Gold Forum showed their companies to have solid foundations. Most spoke of opportunities to maintain production, and a few talked about growth. Except for a minor impact from oil prices, costs are being contained. Rumors over the weekend ahead of the conference and the announcement early Monday morning of the merger between Barrick Gold (3.5% of net assets*) and Randgold Resources (2.6% of net assets*) dominated the thoughts and conversations of those in attendance. We devote the remainder of this update to our assessment of the merger.
Market Realist
The graph above shows the all-in sustainable costs (or AISC) for four major gold mining companies—Newmont Mining, Agnico Eagle Mines, Goldcorp, and Barrick Gold. This metric isn't a GAAP or IFRS measure. However, it's a decent measure of a gold miner's costs, as it includes general and administrative costs, sustaining capital expenditures, and mine site reclamation costs.
Barrick Gold (ABX) has one of the best AISCs among the senior developers. The Canadian miner had AISC of $815.00 per ounce in the second quarter. This AISC level makes ABX look appealing, especially with gold (IAU) prices popping up lately. In general, AISCs have risen a bit this year, but miners have been able to contain costs despite rising crude oil prices.