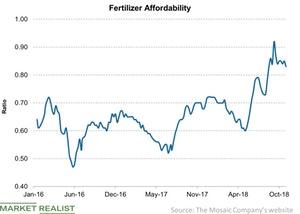 Fertilizer Affordability Improved Due to Higher Crop Prices
Fertilizer affordability
Fertilizer affordability is key for companies including Mosaic (MOS), Nutrien (NTR), CF Industries (CF), and Israel Chemicals (ICL). Higher fertilizer affordability helps increase the demand for fertilizers. When fertilizer prices increase, higher affordability is good for fertilizer demand, which is positive for the earnings growth.
Article continues below advertisement
Weekly movements
Last week, the Fertilizer Affordability Index, which is issued by Mosaic, declined to 0.83x from 0.85x a week ago. Fertilizers became more affordable week-over-week. When the Fertilizer Affordability Index is below one, it suggests that the fertilizer prices were relatively affordable last week compared to the base year of 2005 when Mosaic set the index to one.
Digging down to what drove the Fertilizer Affordability Index lower, the crop prices improved 1.8% week-over-week, while the fertilizer prices declined by just under 1%. The impact of higher crop prices improved the Fertilizer Affordability Index. When farmers earn more by selling crops, they have more money to spend on fertilizers.
In the coming weeks, the fertilizer companies discussed in this series will be releasing their earnings. We'll continue tracking their performances as well as the outlook for fertilizer prices.