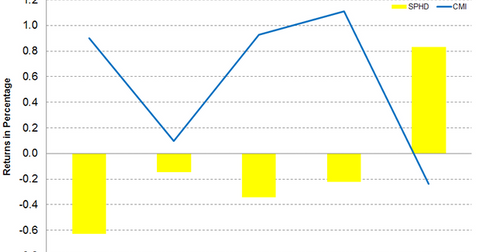 Cummins Will Support the New EPA Norms
By Peter Neil

Updated
Cummins to support new EPA norms
On November 13, Cummins (CMI) said that it would support the EPA's intended new standards on the low nitrogen oxides rule for heavy-duty engines like trucks on highways. The EPA is expected to release the new norms in 2020. The initiative is supported by truck and engine makers. The rules were revised in 2001 and were supposed to be implemented by 2010.
The efforts are meant to reduce the nitrogen oxide and particulate matters. With the new norms, the nitrogen oxide was reduced by 90% to 98% between 1990 and 2010.
Article continues below advertisement
Jennifer Rumsey, Cummins' vice president and chief technical officer, said, "Cummins has a long history of working with regulators to help develop tough, clear and enforceable standards that lead to a cleaner, healthier and safer environment. We can and should do more to reduce NOx. This is an important step forward because a streamlined, national regulatory program brings consistency across the country allowing manufacturers to develop cleaner, more cost-effective solutions for our customers."
Cummins stock
Cummins stock gained 2.8% for the week and closed at $147.11. The gains helped the stock trade 3.9% above the 100-day moving average price of $141.65. However, the company's 100-day moving average has fallen from a peak of $174, which indicates an overall weakness in the stock. On a year-to-date basis, the stock has fallen 16.7%. Caterpillar (CAT), Deere (DE), and General Electric (GE) have declined 17.5%, 5.5%, and 54%, respectively.
Last week, Cummins outperformed the Invesco S&P 500® High Dividend Low Volatility ETF (SPHD), which declined 0.5%. The fund has invested 1.7% of its holdings in Cummins as of November 16. Cummins has a relative strength index of 59, which indicates that the stock isn't overbought or oversold.