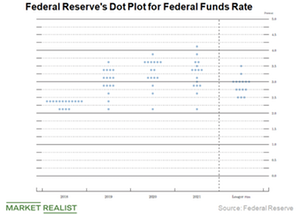 Could the Market Be Misinterpreting Powell's Remarks?
By Anuradha Garg

Updated
Is the surge in markets justified?
One question we need to ask ourselves is whether yesterday's surge in the markets (QQQ)(DIA) is justified. The answer depends on our understanding of Fed Chairman Jerome Powell's comments. Now, some may argue that since Powell said "just below" neutral in his prepared remarks, he was trying to give a dovish message to the markets. On the other hand, what Powell said yesterday and what he said at the beginning of October may not be that different.
Article continues below advertisement
A range of estimates versus a point
Yesterday, he referred to the "broad range of estimates of the level that would be neutral." Currently, the federal funds rate (TLT) is in the range of 2.0%–2.25%, which is close to the lower end of the Fed's current range of neutral, 2.5%–3.5%. In October, however, it was unclear if what Powell meant from "long way from neutral" was the median of the range or the range itself. We're still at least three percentage rate hikes away from the median neutral rate.
While we can debate the exact subtleties of the speech, one thing is certain: Powell's overall tone was more dovish than it was in October.
Focus on data
Investors will be focusing on the data, which will also decide the Fed's next course of action. While the December rate hike is broadly a given, the hikes in 2019 will depend on data. During his latest speech, Powell said, "While FOMC participants' projections are based on our best assessments of the outlook, there is no preset policy path. We will be paying very close attention to what incoming economic and financial data are telling us." The data on wage growth and inflation (TIP) will be the key items to watch out for in understanding the Fed's next steps.
Check out How to Profit from the Current Market Uncertainty for more on risks facing the markets currently and how to navigate them.