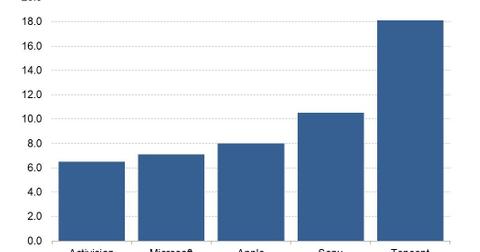 China Tells Tencent to Clean Up Its Act
By Ruchi Gupta

Updated
Tencent wants to strengthen WeChat
Chinese authorities have ordered Tencent (TCEHY) to clean up WeChat by removing pornographic content from the social media app, the South China Morning Post has reported. WeChat is used by more than 1.0 billion people. In addition to being a social media app, WeChat is also a payment service, processing payments for consumers and merchants in China and overseas. Walmart (WMT), for instance, uses WeChat Pay to accept mobile payments at its stores in the western region of China.
Article continues below advertisement
Tencent is cooperating with the authorities and wants to use the cleanup to strengthen WeChat, which is competing with Alibaba's (BABA) Alipay for customers in the mobile payment market. Alipay currently dominates China's $16 trillion mobile payment market with a 54% market share to WeChat's nearly 40%.
Freeze on new game approvals
Since March, China has frozen the approval of new video games in the country in what is seen as part of a government clampdown on online gambling, violent content, and Internet addiction. The freeze has affected Tencent, which relies heavily on video game sales. The company reported its first profit decline in 13 years in the second quarter as the freeze on new game approvals weighed on its results.
Tencent's game revenue rose 51% YoY (year-over-year) to $18.1 billion in 2017 compared to Sony's (SNE) $10.5 billion and Microsoft's (MSFT) $7.1 billion, respectively, according to Newzoo.
Positive signal for Tencent
China's telling Tencent what action it needs to take do right by the changing regulations—as in the case of the WeChat cleanup—seems to be a good sign for the company. It appears Chinese regulators want to help Tencent fix the problematic areas of its business, which could lead to the restrictions on the approval of its new games being lifted.