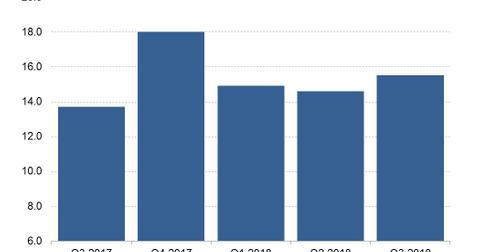 Amazon Restores Global Marketplace in Australia
By Ruchi Gupta

Updated
Amazon ends months-long restriction
Amazon (AMZN) has lifted the months-long restriction that prevented Australians from shopping on its global marketplace, a decision that generated consumer backlash for the company.
Amazon began the restrictions in July after the Australian government adopted a 10% tax on imported low-value goods, meaning imported items worth less than $1,000. As a result of the restriction, Australians were limited to buying from local sellers on Amazon's marketplace, which meant limited product choices.
Article continues below advertisement
Giving customers wider product selection
Restoring access to its global marketplace in Australia means Amazon's Australian customers can now access a wider product selection. Amazon's Australia site hosts about 80 million product listings compared to about 500 million product listings on the company's global marketplace.
Amazon said it listened to customer feedback and decided to build a system to allow it to enable the purchase of low-value imports while remaining compliant with the Australian tax law.
Amazon made $15.5 billion in international revenue
Restoring its global marketplace in Australia should allow Amazon to pursue a projected $51 billion from pre-Christmas shopping in Australia this year. Amazon launched its Australian marketplace a year ago. The company reports Australia sales under its international segment where revenue hit $15.5 billion in the third quarter. Amazon's global revenue jumped 29.3% YoY to $56.6 billion in the quarter. eBay (EBAY), Etsy (ETSY), and Shopify (SHOP) reported revenue growth of 6.0%, 41.4%, and 57.5% YoY, respectively, in the third quarter. Alibaba (BABA) and JD.com (JD) grew their revenues by 54.5% and 25.1% YoY, respectively, in the third quarter.