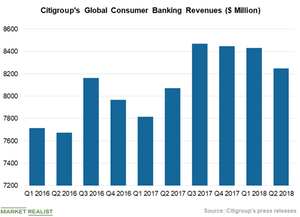 Will Global Consumer Banking Continue to Support Citi's Revenue?
By Anirudha Bhagat

Updated
Global business
Citigroup (C) is looking at areas outside the United States to expand its lending book, add credit card business, and add new assets under management.
US banks (XLF) have seen subdued credit offtake in the domestic market amid rising interest rates over the past few quarters. Citigroup has witnessed strong growth in Asia and Latin America in recent quarters.
The bank's Global Consumer Banking segment's revenue rose 2% YoY (year-over-year) to $8.3 billion in the second quarter. Excluding the impact of the US dollar and the sale of the Hilton portfolio of credit cards, its revenue rose 3%. By region, its revenues in North America, Asia, and Latin America rose 1%, 3%, and 5%, respectively.
However, on a sequential basis, its revenue fell 2% mainly due to falls of 3% each in its North American and Asian revenues and partially offset by a 3% increase in its Latin American revenue.
Article continues below advertisement
Credit offtake
As of June 30, Citigroup had retail loans of $145.1 billion, representing YoY growth of 1%. The growth reflects the bank's focus on retail offerings amid lower demand for corporate credit. In the second quarter, Citigroup's average card loans rose 4% to $157.5 billion, and its investment assets under management rose 6% to $162.7 billion, reflecting higher demand for wealth management advice.
Profitability
The company's Global Consumer Banking credit costs rose 8% in the second quarter mainly due to credit losses and reserve releases. The segment's net income rose 14% due to higher revenue and lower taxes partially offset by higher expenses and credit costs.
Citigroup is looking to expand its credit card portfolio further and focus on retail lending in new countries to expand its lending book. Other major banks JPMorgan Chase (JPM) and Bank of America (BAC) are also focusing on expanding their retail books. They witnessed 2%–7% credit growth in the second quarter. In contrast, Wells Fargo's (WFC) credit offtake has fallen ~1% YoY. Wells Fargo is struggling with compliance and fraud-related issues.