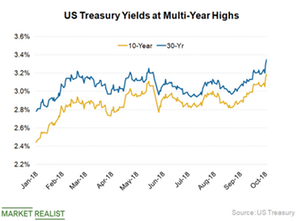 Will Equity Valuations Pass the Stress Test of Rising Bond Yields?
By Anuradha Garg

Updated
Rising rate fears
Article continues below advertisement
Rates and US stocks
Higher yields are usually negative for equities because companies' borrowing costs increase as the risk-free rate goes up. Higher rates might deter some investment and increase the cost of borrowing, which could impact companies' earnings and stock prices. When rates increase, the future cash flows, which are discounted at a higher rate, aren't worth as much.
Advantages fading?
In the past few years, one of the factors fueling US equity markets (IVV) (QQQ) has been cheap money. This easy money policy was accompanied by low inflation levels. These factors supported a higher level of valuations for US equities (DIA). This year, tax reforms provided added advantage to US equities. However, now as the easy money policy seems to be over and as inflation (TIP) starts to rear its head along with the fading advantage of tax reform, US equity valuations could come under pressure.
Moreover, an earnings cliff for US stocks could be approaching soon. The corporate profit growth in 2019 is not expected to keep pace with the high base of 2018. As per the consensus compiled by Thomson Reuters, the earnings growth of the S&P 500 (SPY) is expected to be 10% in 2019 as compared to 23% in 2018. Under such a scenario, rising interest costs could put high equity valuations for stocks to a serious test. It remains to be seen if equities can grow at a stronger clip to overcome the impact of rising rates. However, investors are growing wary of the rising valuations and increasing volatility, which is conducive to gold's (GLD) safe-haven appeal.