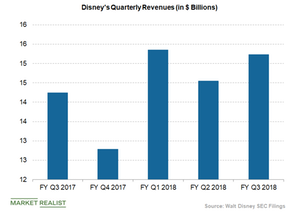 What Is Disney Doing to Get Regulatory Approval for Fox Deal?
By Sophia Nicholson

Updated
Disney to seek overseas approval
On October 15, Walt Disney (DIS) announced that it had offered concessions to the European Commission on October 12 to help resolve the European Union's (EZU) antitrust concerns and accelerate the approval process of its $71.3 billion acquisition deal with 21st Century Fox (FOXA), according to Reuters. Though the commission didn't disclose the concessions, it extended the review process of the merger to November 11 from October 19.
Article continues below advertisement
Disney's deal with Fox
Disney initially made a bid of $52.4 billion to buy Fox's media and entertainment assets in December 2017, but US cable company Comcast (CMCSA) intervened with its $65 billion offer to purchase these assets from Fox. The fight over the Fox assets came to an end in July after Comcast decided to withdraw from the bidding war for Fox assets and focus on buying a 61% stake in London-based Sky. On September 22, Comcast won the $38.8 billion bid for 61% of UK broadcaster Sky in a three-round auction process held by UK regulators. Then on September 26, Fox also decided to sell its 39% stake in Sky to Comcast, valuing it at around $15.3 billion.
After the sale of the 39% stake in Sky to Comcast, Disney remains on track to purchase Fox's film and TV studio assets, cable networks such as FX Networks and Fox Sports Regional Networks, Fox Networks Group, stakes in National Geographic Partners, Indian satellite TV group Star India, Hulu, and other assets. Disney expects the mega-deal to close in the first half of 2019.
The acquisition of Fox assets would bolster its revenues, and the vast portfolio of movie franchises, TV series, and other properties could help Disney to build an Internet streaming portfolio to compete with streaming giants like Netflix and Amazon. Disney will also get Indian satellite TV group Star India as well as Fox's 30% stake in online streaming service provider Hulu, which could further boost Disney's streaming ambitions, as Disney will get hold of a 60% stake in Hulu after the acquisition. Disney, Comcast, and Fox each have a 30% stake in Hulu. AT&T (T) has a 10% stake in Hulu, which was acquired after the Time Warner merger.