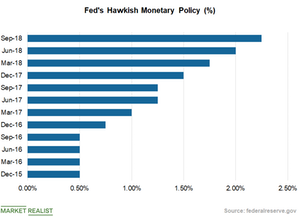 Wells Fargo's Loan Growth, Interest Rates, Property Prices
By Anirudha Bhagat

Updated
Rising interest rates
The US mortgage market is facing a slowdown. Mortgage rates have increased due to the Fed's hawkish monetary policy. In a rising interest rate scenario, a customer's ability to afford a loan decreases, which impacts the demand for mortgage loans.
From 2009 to November 2015, the Fed kept interest rates unchanged at 0.25%. In December 2015, the Fed began what would become eight interest rate hikes of 25 basis points each. If the Fed raises the rate one more time in 2018, three times in 2019, and one time in 2020, consumer mortgage affordability could deteriorate.
Article continues below advertisement
The NAR (National Association of Realtors) in its monthly report stated that existing home sales were unchanged in August. That follows four consecutive months of monthly declines as consumers continued to postpone their plans to buy homes amid higher housing prices. The declining existing home sales market is impacting the US mortgage industry.
According to the NAR, existing home sales in August were 5.34 million units, which was flat sequentially but a decline of 1.5% YoY (year-over-year). The NAR noted that inventory increased 2.7% YoY to 1.92 million units, marking the first increase in the last three years. New construction activities have remained sluggish due to rising material and labor costs and land shortages. All these factors pushed property prices higher.
Banks' mortgage income slump
Declining existing home sales and rising interest rates have already impacted banks' (XLF) financials. Wells Fargo (WFC) reported an 18% sequential decline in its second-quarter 2018 mortgage banking income.
JPMorgan Chase (JPM), the largest US bank, reported a 1% sequential decline in its second-quarter Consumer and Community Banking segment. Citigroup's (C) North America Consumer Banking segment's second-quarter revenues fell 14% sequentially. In the second quarter, Bank of America (BAC) registered a sequential fall of 0.8% in its Consumer Credit segment.