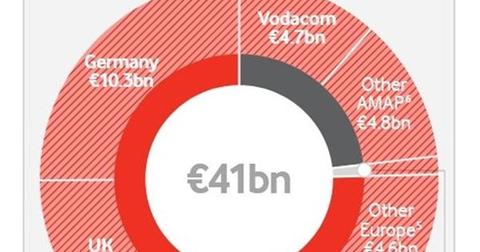 Vodafone Scoops 5G Spectrum in Italy
By Ruchi Gupta

Oct. 10 2018, Updated 9:30 a.m. ET
Vodafone spent $2.8 billion on the purchase
Vodafone (VOD) recently acquired 5G-suitable spectrum in Italy. The company bought the spectrum through an auction process organized by Italy's economic development ministry.
Vodafone spent $2.8 billion on the spectrum purchase. All its rivals in the Italian wireless market participated in the auction and secured the crucial spectrum licenses for 5G development. Telecom Italia spent $2.8 billion on the spectrum purchase, and Iliad Italia spent $1.4 billion toward the purchase. Wind Tre purchased $600.0 million worth of spectrum.
The auction yielded about $7.6 billion for the Italian government, more than double the initial target. Vodafone's latest spectrum acquisition adds to its $230.0 million purchase of 5G-suitable airwaves in Spain in July.
Article continues below advertisement
US 5G spectrum auction
Vodafone is also planning to buy spectrum that it could deploy toward 5G development in Australia. Australia is planning to hold its 5G spectrum auction in November.
The United States is also planning an auction of 5G-suitable spectrum in November. T-Mobile (TMUS) and Sprint (S) have indicated interest in participating in the auction. The two are seeking to merge, and they noted that this action would allow them to develop 5G networks quickly.
Their larger rivals Verizon (VZ) and AT&T (T) are further down the road with 5G developments. Verizon launched 5G service for residential customers on October 1, and AT&T is eyeing the launch of 5G services in up to 12 metro markets before the end of the year.
About $6.1 billion in service revenues generated in Italy
Vodafone (VOD) generated 5.3 billion euros ($6.1 billion) in service revenues in Italy in its fiscal 2018, which ended in March. Its global service revenues totaled 41 billion euros in fiscal 2018.