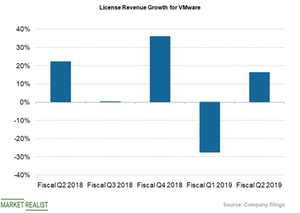 VMware's Network Virtualization Product Is Gaining Popularity
By Aaron Hemsworth

Updated
NSX gaining popularity
VMware's (VMW) NSX (network virtualization) product, which came from the acquisition of VeloCloud in December 2017, could drive the company's license business. NSX is available for all the public cloud platforms like Microsoft's (MSFT) Azure and Amazon's (AMZN) AWS (Amazon Web Service) cloud technology.
NSX is also being widely used for the deployment of container-based applications. When containers are implemented in the system, it is necessary to protect that container through a software-defined networking layer. Thus, NSX can provide the ultimate solution in such cases. In 2017, Lebanese bank Al-Mawarid chose VMware's NSX network virtualization to drive its application, security, and product innovation through IT automation. Kuwait National Petroleum Company also deployed VMware NSX's network virtualization.
Article continues below advertisement
Contribution to business
VMware ended the second quarter of fiscal 2019 with 7,500 NSX customers. During the reported quarter, the company also secured around 13 contracts over $10 million. Moreover, the company's go-to-market strategy, which is well supported by better pricing and higher promotion schemes, continues to drive the company's License revenue growth. We can see from the graph below the License revenue growth of VMware in the last five quarters.
The NSX product secured nine of the top ten deals in Q2 of fiscal 2019, which belongs to different areas like micro-segmentation, network automation, cloud-native applications, multi-cloud networking, enterprise branch SD-WAN, and network function virtualization. The company exited Q2 of fiscal 2019 with 7,500 NSX subscribers. The license bookings in the second quarter of fiscal 2018 grew 40% YoY (year-over-year).